UK/EU trade deal? Boy, it's going to be a complicated year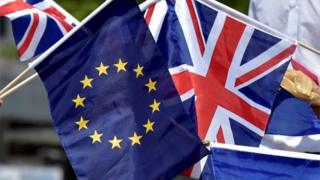 When considering any difficult conundrum, it is often worth stating the obvious first.
Both sides in the negotiations between Britain and the European Union say they want a deal on trade once Brexit has happened.
Both have said they want that deal to be comprehensive - "deep and special" according to the UK.
Both have signalled they are willing to give ground to achieve their desired outcome.
Britain - for example - has moved on the issue of financial services' access to the European Union once we have departed.
No "passporting rights" as Theresa May admitted in her Mansion House speech in London earlier this month.
Benefits
Just one of the "costs" of Brexit the Government is now admitting are attached to the decision to depart.
Alongside the "benefits" on sovereignty and the freedom to sign free trade deals with non-EU countries.
The EU - for example - has agreed that Britain will be able to negotiate and sign (if not implement) free trade deals with non-EU countries whilst still effectively a member of the single market during the implementation period.
And despite many protestations that there would be no such thing as a "bespoke" free trade deal for the UK, Donald Tusk, the president of the European Council, has made it clear that a different type of deal is exactly what is on offer.
As David Cameron's former advisor, Mats Persson, now of EY, points out, the offer of no tariffs and no quotas on goods trade between Britain and the EU already puts the deal in a better position than the EU's agreements with Canada, Norway and Switzerland.
The two sides do differ on sticking points and red lines.
'Equivalence'
Such as how on earth do you solve the Irish border issue without resorting to "technological solutions" that even the most optimistic of trade negotiators admit don't actually exist yet?
Or what does "equivalence" look like when it comes to regulating the insurance or banking industries for example?
And can that equivalence be too easily withdrawn by either side, leaving a great deal of regulatory risk on the post-Brexit table?
But, here are two sides in a difficult negotiation whose expressed will is to get a deal.
And, when it comes to negotiations, that is not a bad starting point.
Lower growth?
That is not to say for a moment that whatever Britain's deal with the EU, there are not likely to be costs.
Nearly all the economic modelling done on any future free trade arrangements - including by the government - have said comparative economic growth is likely to be lower for the UK.
And growth since the referendum has softened as Brexit uncertainty has weighed on business confidence and the inflation spike linked to the fall in the value of sterling has re-introduced the incomes squeeze.
That's when prices go up more quickly than peoples' wages.
That effect is only now starting to unwind as the pound strengthens once again.
The timetable is tight for the "political agreement" planned for later this year on a future trade deal.
The government insists it is doable as there is already a great deal of regulatory trust between the two sides, bound as they have been for more than 40 years in a trading union.
And sources indicate that Britain will show the correct degree of humility in asking the "club" to rewrite the rules of an organisation we have just quit.
Heroic assumptions, critics will say.
No deal has been done and Parliament has not voted on leaving the customs union or the single market.
"A shambles" according to the Labour MP, Ben Bradshaw, will remain just that until the government either falls or a different deal is put in place.
For the two protagonists, though, at least in this negotiation both sides want an outcome whose similarities possibly outweigh the contradictions.