Bargain Booze owner could be sold after failing to raise funds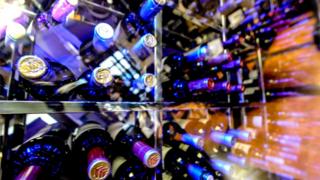 Bargain Booze owner Conviviality could face administration after failing to secure emergency funding.
The firm, which is also a major supplier to chains like Wetherspoons, has suffered a string of profit warnings in recent weeks and revealed a £30m tax bill.
It sought £125m from investors but said it had been unable to raise the cash.
It is now looking at other options, including a "potential sale of all or parts of the business".
If that fails, the company, which employs 2,500 staff, is unlikely to be able to continue trading.
A statement from Convivialty read: "Despite a significant number of meetings with potential investors resulting in good levels of demand… there was ultimately insufficient demand to raise the full £125m.
"The board wishes to thank its customers, suppliers and employees for their continued support during this difficult period for the company.
"The company is in discussions with its lending banks and advisers regarding other possible options and is in receipt of a number of inbound enquiries regarding a potential sale of all or parts of the business."
It is understood accountancy giant PwC is being lined up as administrator should a buyer not be found.
Conviviality - which also owns Wine Rack - supplies over 25,000 restaurants, hotels and bars, more than 700 franchised retail outlets, and over 400 independent specialists.
It also caters to festivals and events, as well as major supermarkets.
The firm's shares have been suspended since an unexpected tax bill, due to be paid by the end of March, left it low on short term funding.
Last week, chief executive Diana Hunter stepped down with "immediate effect", with non-executive chairman David Adams stepping into the breach until further notice.
High Street woes
It comes amid a wider High Street slowdown that has seen a host of big businesses shut stores or go bust.
Since January, Toys R Us and electronics retailer Maplin have filed for administration, while fashion retailers New Look and Select have promised to close hundreds of stores.
Restaurant chains Prezzo, Byron and Jamie's Italian are also shutting outlets and laying off staff.
Retailers have been buffeted by higher overheads, changing consumer habits and the rise of online spending.
Many also embarked on debt-fuelled expansions that left them dangerously exposed.