Asia stocks follow US shares up as trade war fears ease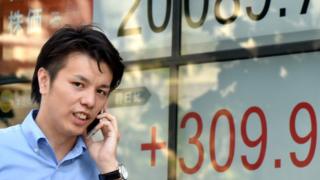 Asian markets followed Wall Street's lead and rose sharply on Tuesday, as hopes grew that a trade war between the US and China could be averted.
Japan's Nikkei 225 index finished the session up 2.7% to 21,317.3 points, led by the tech sector.
The US last week announced proposed tariffs against China, which sent global markets tumbling.
But China's premier Li Keqiang said on Monday that China and the US should maintain negotiations.
Mr Li's comments followed those made earlier by US Treasury secretary Steven Mnuchin, who told US media on Sunday he was "cautiously hopeful" that the US and China could come to an agreement on trade issues.
On Wall Street, the S&P 500 finished Monday's session up 2.7%, the Dow Jones gained 2.8%, and the tech-heavy Nasdaq Composite ended up 3.3%.
The Nikkei 225 index was buoyed by tech shares, which would be hurt in an ongoing trade war.
Tokyo-listed stocks in the semiconductor equipment maker Tokyo Electron closed up 2.9%, as did shares in robot maker Yaskawa Electric Corp.
Elsewhere in Asia, South Korea's benchmark Kospi index gained 0.6% to finish the day at 2,452.1 points, and Australia's S&P/ASX 200 index gained 0.7% to 5,832.3.
In China, Hong Kong's Hang Seng index was up 0.8% in afternoon trade, while the Shanghai Composite rose 1.1%.
Tariff talk
US President Donald Trump announced the tariffs against Chinese goods on Thursday, saying they were a response to allegations of intellectual property theft by China.
China then responded to news of the planned tariffs by saying it did not want a trade war, but it was "absolutely not afraid" of one.
Some analysts have said if a full blown trade war is not averted, China could make things difficult for US companies doing business in China, among other measures, while others have said China is more likely to try and avoid escalating the problem.
In response to US tariffs on steel and aluminium imports announced by Mr Trump earlier this month, China has already announced its own set of proposed tariffs worth $3bn.
The US tariffs on steel and aluminium imports came into effect last week.