Moss Bros plunges on profit warning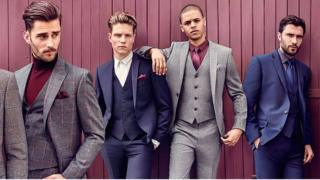 Shares in Moss Bros plunged on Wednesday after the suit hire firm warned on profits.
The retailer said the bottom line for the current financial year would be "materially lower" than expected.
Shares fell by as much as a third before recovering to be 20% lower at 47p, valuing the company at less than £50m.
Moss Bros blamed the warning on stock shortages, sluggish demand for suit hire and lower consumer confidence.
Chief executive Brian Brick said the start of 2018 had been hampered by short-term stock delivery issues.
Carpetright seeks to close stores
Six reasons behind the high street crisis
"The resulting stock shortage has undoubtedly driven a significant shortfall in sales, which will continue until late spring," he said.
"Although this has been a painful experience, I am confident that the availability issues are well on track to being resolved and the margin benefits from the consolidation will flow through."
Mr Brick said the year ahead for retail would be "a very challenging one".
Moss Bros has 129 stores across the UK.
Its problems are another example of the pressures facing many well-known names on the high street, including New Look, Carpetright and Mothercare.