GKN brands Melrose management as 'novice'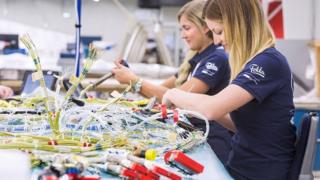 GKN has called Melrose a "novice" and "high-risk" as it continues to battle a hostile takeover attempt by the firm.
The UK engineering firm also accused the turnaround company of making "misleading" claims about its strategy and pension scheme.
It comes after GKN rejected what Melrose said was its final offer of about £8.1bn
GKN makes parts for planemakers Airbus and Boeing, as well as parts for Volkswagen and Ford cars.
It is one of the UK's largest industrial firms, employing more than 59,000 people globally - 6,000 of them in the UK.
Melrose specialises in buying up industrial companies it believes are undervalued and restructuring them before selling them on.
Melrose claims it has "the best team to realise GKN's full potential".
It has also called GKN's plan to merge its automotive business with US rival Dana, "hasty and ill-thought-through" and said GKN had "substantially reduced" annual contributions to its pension schemes.
But in a statement on Monday GKN boss Anne Stevens rejected the claims.
"In scale and nature, GKN is completely different from any business Melrose has ever bought," she said.
"Melrose lacks the knowledge and experience to manage GKN successfully and has absolutely no plan for the business."
She said the firm's offer for GKN did "not come close" to reflecting its true value and said shareholders should reject it.
The battle over GKN has been going on for more than two months, but will be concluded soon with shareholders having until 29 March to vote on the bid from Melrose.
Some shareholders have already said they plan to reject the offer, arguing that the price on offer undervalues the engineering firm.
The Pensions Regulator had also warned the deal could weaken GKN's ability to meet its pension obligations.
Melrose originally offered to invest £150m cash into the GKN pension schemes but has since increased its pledge to £1bn.
A brief history of GKN
Founded in 1759 as an ironworks in South Wales
Involved in aerospace, automotive, materials and manufacturing engineering
Operates in 30 countries with 59,000 employees
Employs 6,000 staff in the UK, mostly in aerospace and automotive technology
Ten UK sites, including Bristol, Cowes, Luton, Portsmouth, Birmingham and Telford.
Chief executive Anne Stephens took over in January