Household squeeze shows signs of easing as wages rise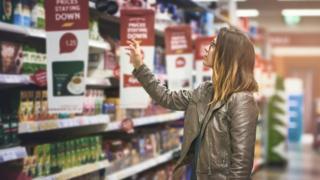 Wage growth has picked up and unemployment has edged lower, according to the latest official data.
The Office for National Statistics said that, compared with a year earlier, earnings grew by 2.6%, for the three months to the end of January.
That was up from 2.5% in the previous quarter and adds to evidence that the squeeze on household income may be coming to an end.
Meanwhile, the unemployment rate ticked lower to 4.3% from 4.4%.
A small increase in the number of unemployed people during the quarter did not dent the overall rise in employment over the last year.
The data was not all positive - the number of unemployment benefit claimants rose by 9,200 to 838,000 in February, that's the highest level in more than three years.
But John Hawksworth, chief economist at PwC, said the good news in the latest figures outweighed the bad.
"In particular, with consumer inflation falling back to 2.7% in February, we are now close to the point where real pay growth returns to positive territory," he said.
"But it will still be many years before real wage levels return to the peak seen before the financial crisis."
The BBC has learnt that than a million NHS staff, including nurses, porters and paramedics, can expect pay increases of at least 6.5% over three years.
If approved, workers in England could see their pay increase almost immediately.
Economists are now wondering whether the improved outlook for pay will spur the Bank of England to raise interest rates from the current low levels.
Samuel Tombs, chief UK economist at Pantheon Macroeconomics, said the Bank's Monetary Policy Committee (MPC) should be cautious about raising the interest rate.
He said: "We continue to think that wage growth will rise at only a modest pace this year, ensuring that the MPC needs to raise interest rates only by 0.25% in 2018."