Carillion finance directors to be probed by regulator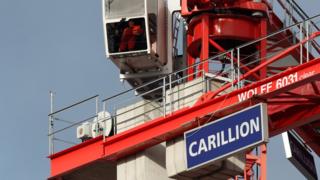 The conduct of two former Carillion finance chiefs is to be investigated by the UK's accounting watchdog.
Richard Adam and Zafar Khan had both been group finance director of the collapsed outsourcing company.
The Financial Reporting Council probe will focus on Carillion's financial statements for the years 2014, 2015 and 2016, and the six months to June 2017.
Carillion was the UK's second-largest construction company before collapsing with debts of £1.5bn on 15 January.
It had employed 43,000 people, including about 20,000 in the UK.
The FRC says it will also look into other statements covering the years 2014 to 2017.
Both Mr Adam and Mr Khan were among senior Carillion figures questioned by MPs looking into the collapse of the company.
Mr Adam has been accused by MPs of dumping his shares in the company at the earliest possible moment. He sold shares worth £776,000 in early 2017 as soon as he qualified for them after leaving Carillion in December 2016.
Growing probes
Earlier this month, MPs released a report, commissioned by the firm's board in 2017, that concluded Carillion "aggressively managed" its balance sheet to make its accounts look better.
The draft independent business review said that income had been brought forward and payments postponed in order to flatter the company's accounts.
The report was intended to be presented to would-be lenders, but it was never used.
The FRC's investigation adds to the list of bodies looking into the Carillion story.
The Financial Conduct Authority is looking into the "timeliness and content" of market updates.
The Work and Pensions, and Business, Energy and Industrial Strategy Committees have both been examining how and why the firm collapsed.