Toys R Us to close all US stores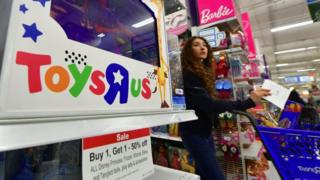 Toys R Us will close or sell all its 885 stores in the US after failing to find a buyer, putting about 30,000 jobs under threat.
Chief executive Dave Brandon said it was a "profoundly sad day" for the retailer.
The giant toy-store chain was already in the process of closing one fifth of its shops after filing for bankruptcy protection last year.
Toys R Us will also close all its UK stores by the end of April.
The UK collapse will put more than 3,000 people out of work as a dismal period for the retail sector continues.
However, the company said it could resurrect 200 of the best-performing US stores if talks to combine these with its Canadian operations prove successful.
Mr Brandon said in a statement released late on Wednesday: "This is a profoundly sad day for us as well as the millions of kids and families who we have served for the past 70 years. I have always believed that this brand and this business should exist in the US."
Toys R Us said it would provide more details about the plans in the near term.
The company is trying to sell its Canadian and international operations in Asia and Europe, including Germany, Austria and Switzerland.
Australia, France, Poland, Portugal and Spain are considering their options, including potential sale processes in their respective markets, but the retailer is likely to go into liquidation in France, Spain, Poland and Australia, Mr Brandon said.
US debt
The US parent company filed for bankruptcy in September.
The business was bought in 2005 by a group of investors, including private equity firms Bain Capital and KKR, which loaded it with about $5bn (£3.6bn) in debt.
The company was landed with interest payments that were as much as $400m a year.
In the UK Toys R Us joins a long list of high-street retailers, including Maplin and Claire's, that have run into difficulties this year.
Many have been hit by changes in consumer spending habits, a squeeze on disposable income, higher inflation and the extra cost of the national living wage, and the prospect of increases in business rates in April.