GKN and Dana agree auto-engineering merger for $6.1bn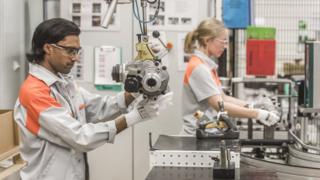 UK engineering giant GKN has agreed to merge part of its business with US company Dana, as it seeks to fend off a takeover bid from Melrose Industries.
The merger will combine GKN's Driveline division with US auto-engineer Dana in a deal worth $6.1bn (£4.4bn).
It comes as Melrose has a £7.4bn offer on the table to buy all of GKN.
But GKN said the Dana deal "provides significantly greater value" than Melrose's bid, which is subject to scrutiny by UK MPs and regulators.
Earlier this week, a cross-party group of MPs wrote to the Business Secretary, Greg Clark, saying the Melrose takeover should be blocked.
Either deal still needs to be signed-off by GKN shareholders, who will now have to assess the merits of the two alternatives.
The chairman of GKN, Mike Turner, said of the Dana merger: "This combination of GKN Driveline and Dana will create a US and UK led global market leader in vehicle drive systems.
"The synergies between these two businesses and our complementary product portfolios make this a great deal for GKN shareholders."
Under the terms of the proposed tie-up, GKN shareholders will end up with a 47.25% stake in the enlarged, US-listed group. FTSE 100-listed GKN will also get $1.6bn in cash from a merger.
Dana will also take on $1bn in pension liabilities and issue $3.5bn worth of shares to GKN investors.
Engineering a response
The Dana deal is part of GKN's Project Boost - which the UK company hopes will dissuade shareholders from agreeing to the Melrose takeover. GKN argues that splitting the company into aerospace and driveline business would be more beneficial.
Dana said the combined entity would have sales of approximately $13.4bn and deliver $235m of annual cost savings within three years.
A new UK-domiciled company will be created if the Dana-GKN deal is approved, but it will keep Dana's New York listing and its Ohio headquarters.
The Unite union's assistant general secretary for manufacturing, Tony Burke, said: "Over the coming days we will be seeking assurances over jobs and investment to ensure that any merger strengthens the position of GKN's Driveline division as a world leader."
Melrose specialises in buying up industrial companies it believes are undervalued and restructuring them before selling them on.
That has raised fears with unions and MPs that GKN, one of the UK's largest industrial firms, will be broken up and sold to overseas owners.
The Pensions Regulator has warned that the Melrose takeover could affect the company's ability to fund its pension scheme.
Melrose shareholders overwhelmingly voted in favour of the GKN takeover deal on Thursday.
A brief history of GKN
Founded in 1759 as an ironworks in South Wales
Involved in aerospace, automotive, materials and manufacturing engineering
Operates in 30 countries with 59,000 employees
Employs 6,000 staff in the UK, mostly in aerospace and automotive technology
Ten UK sites, including Bristol, Cowes, Luton, Portsmouth, Birmingham and Telford.
Chief executive Anne Stephens took over in January