Growth 'more important than Brexit'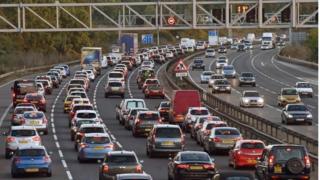 Brexit should not overshadow plans to boost growth, a business lobby group conference has heard.
The biggest challenges facing businesses in the UK are to do with "fundamentals" rather than Brexit, the British Chambers of Commerce says.
The UK government said it was committed to its industrial strategy and boosting productivity.
Policy makers have wrestled with low UK productivity growth since the financial crisis.
'Get the basics right'
"Government can do more than one thing at once," Adam Marshall, the director general of the British Chambers of Commerce (BCC) told BBC 5 live's Wake Up To Money.
"The best possible Brexit deal will not matter to the UK's competitiveness if the roads remain potholed and congested, if you can't get mobile phone coverage around the UK, if business broadband is poor and companies can't get the people they need because the training system isn't working to deliver for them."
In a speech to a BCC conference in London, Mr Marshall said: "Successive governments have acknowledged that more could be done to get the basics right for business.
"Indeed, the current government's developing industrial strategy is upfront about many of these challenges.
"Yet the leadership and the infrastructure simply aren't there to make change happen."
The BCC called on the government to fund repairs on local roads, improve the capacity of railways and airports, build more houses, get rid of of mobile phone "not-spots", make the apprenticeship system stable and come up with a clear and easy-to-use immigration system.
'Fit for the future'
Mr Marshall also said that "business communities are worried about" policies being put forward by the Labour leadership, particularly nationalisation.
His comments echo earlier calls by the BCC for clarity of leadership.
A Department for Business, Energy and Industry Strategy spokesperson said: "The government's commitment to boosting the productivity and earning power of people and places across the UK remains steadfast.
"Through our industrial strategy, we are building a Britain fit for the future, with a plan to help businesses create better, higher-paying jobs in every part of the UK."
It said its £1.7bn Transforming Cities Fund will "address weaknesses in city transport systems while improving connectivity, reducing congestion and introducing new mobility services and technology".
The spokesperson added that the government had committed to raising research and development investment to 2.4% of GDP by 2027 "ensuring our world-class research and innovation base continues to thrive".
The UK government is in continuing discussions with the European Union about Brexit.
On Wednesday, the EU rejected a UK argument that financial services should be included in a free-trade agreement.