Broadcom Qualcomm bid in US security probe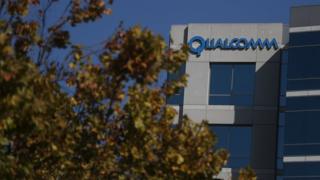 The US government has ordered a national security review into a takeover bid from Singapore-based chipmaker Broadcom to buy its embattled US rival Qualcomm.
The deal is worth about $140bn (£101bn) and would be the biggest the technology sector has ever seen.
If successful it would also create the world's third-largest chipmaker behind Intel and Samsung.
But the US government has asked for 30 days to review the potential deal.
The move by the Committee on Foreign Investment in the United States (CFIUS) is being viewed as unusual as it rarely becomes involved in deals before an agreement is reached.
But the security review comes at a time when the US is increasingly concerned about foreign firms being given access to US telecom equipment, including smartphones, and US intellectual property.
Earlier this year, Chinese teleco giant Huawei said it had not been able to strike a deal to sell its new smartphone via a US carrier, widely believed to be AT&T.
The US also recently blocked the $1.2bn sale of money transfer firm Moneygram to China's Ant Financial, the digital payments arm of Alibaba.
Latest snag
Qualcomm's shareholders were set to vote on Tuesday on whether to replace several of its directors with Broadcom candidates.
The shareholder meeting, which could have paved the way for a takeover to occur, is now set for 5 April.
It is the latest snag in Broadcom's bid to takeover Qualcomm, which has faced shareholder disapproval over two large regulatory fines in South Korea and the EU, and troubling issues with its key customer, Apple.
The Singapore-based firm first initiated a hostile takeover bid in November.
Its most recent offer came on 5 February and was valued at $146bn, or $82 per share, according to international research firm IDC.
Qualcomm 'fighting for its soul'
Broadcom's bid to takeover Qualcomm comes at a turbulent time in the wireless technology sector, as big international players go head-to-head rolling out their 5G technology.
Research firm IDC research said Qualcomm was highly regarded within the industry for its commitment to research and development, and innovation, and was "fighting for its soul" as it tried to appease investors and customers, and ward off Broadcom's bid.
"There is a lot of respect for Qualcomm that the technology industry as a whole has," said IDC's Mario Morales, vice president of enabling technologies and semiconductors.
"Qualcomm is an industry leader by a long shot in the 5G space and it's been able to continue to invest and innovate," he said.
"They drive a lot of the IP necessary to compete in the space, so if they go away, it really leaves a gaping hole for other players."
By comparison, Mr Morales described Broadcom as a firm known more for its history of acquisitions, rather than for its organic growth or long term investment in innovation. And he warned a firm led by Broadcom would look very different.
"Short term investors want an exit from Qualcomm and they might get that with the Broadcom takeover, but for Broadcom to win the deal, it will have to overpay," he said.
"So I don't think this deal will happen for many reasons."
Other recent deals within the industry include Broadcom's purchase of network gear maker Brocade Communications Systems in November, while Qualcomm recently extended its $44bn tender offer for NXP Semiconductors to 9 March.