Reality Check: Did snow cost the UK economy £1bn a day?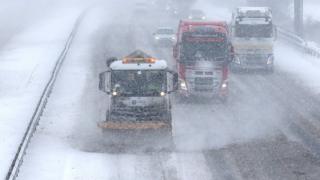 The claim: Snow last week cost the UK economy £1bn a day.
Reality Check verdict: Economists putting figures to the cost to the economy of the snow also say that much of the lost output will be made up in the coming weeks, so it is very unlikely that the snow will end up costing the economy that much.
The front page of this week's Observer went with the headline: "Freezing weather costs UK economy £1bn a day".
When the paper talks about events costing the economy money, it is referring to gross domestic product (GDP), the total value of everything produced in the country, calculated every three months by the Office for National Statistics (ONS).
There are indeed things about snow that will reduce GDP. For example, if you are running a car plant on maximum output and your staff can't get to work or deliveries can't be made.
Similarly, if you run a cafe and you can't open because of snow or your usual customers can't make it in, then you will suffer a permanent loss of income.
But there are many other businesses in which the losses may be limited or made up in the future.
If you are a hairdresser and you can't open for a couple of days, people will still need their hair cutting, so you may have to work a bit of overtime the following week, but your permanent losses will not be huge.
With the service sector accounting for almost 80% of the UK economy, there are fewer people working in factories and more people who might be able to work from home or make up for lost output.
But there are also things about severe weather that boost GDP. For example, people needing to use more energy to heat their homes or panic-buying perishable goods, or councils having to buy grit to spread on roads, or people unable to get to work spending their time at home shopping online.
The £1bn-a-day figure came in a tweet from Douglas McWilliams, from the Centre for Economics and Business Research (CEBR), which suggested that total output each day would be cut by 20%, even after the effects of online shopping and working from home and a 20% increase in energy output, but he described it as a "very rough estimate".
But Mr McWilliams told Reality Check: "By the end of the first quarter, I suspect quite a lot of that will have been made up."
And the same conclusion was drawn by Howard Archer, from forecasting group the EY Item Club, which predicted that the cold weather would knock 0.1 or 0.2 percentage points off the GDP figures for January to March, but added that much of the lost output would eventually be recouped.
Loss of 0.1 to 0.2 percentage points would be a loss of between £500m and £1bn in total, considerably less than the £1bn a day estimated by the CEBR.
Alan Clarke, from Scotiabank, said that he believed estimates of 0.2 percentage points lost due to the bad weather were "a massive exaggeration".
Perfect storm
The last time the ONS mentioned snow in its quarterly GDP report was for the last three months of 2010.
The snow in December 2010 was particularly damaging to the GDP figures.
The disruption caused was in the week before Christmas, which meant that lots of parties were cancelled and people couldn't get to the shops to buy gifts.
Also, because it was right at the end of the quarter, there wasn't time to make up for lost output.
It should be said that in 2010 the CEBR also said that the snow had cost £1bn a day.
Although parts of the UK are still experiencing disruption due to snow, most of the country has a month to recover losses before the end of the quarter.
We will not know how bad an impact the snow had until the GDP figures are published in April - in fact, we may not even know for sure then, because it is not always clear how much of a change in growth has been due to a particular factor.