Trinity Mirror changes name to Reach after Express deal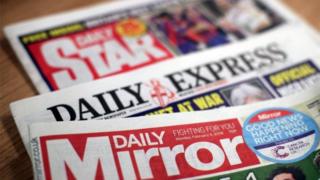 The publisher of the Daily Mirror, Trinity Mirror, is to change its name to Reach after completing a deal to buy the Daily Express.
Trinity Mirror agreed last month to buy the company that owned titles including the Express, the Daily Star and magazines such as OK! for £126.7m.
The name change comes as the company reported a 12.6% drop in group revenues to £623m last year.
A "weak print trading environment" was blamed for the fall.
Despite this, pre-tax profits rose to £81.9m from £76.5m the year before. The company said it had cut costs by £20m last year, £5m more than its original savings target of £15m.
Trinity Mirror chief executive Simon Fox said the group had delivered a "strong" performance "in what remains a difficult trading environment for the industry".
Commenting on the name change, Trinity Mirror said it had "evolved significantly" since it was formed in September 1999 following the merger of Trinity and Mirror Group, and so its current name "no longer accurately reflects the company".
Mr Fox said: "Our reach extends across multiple platforms in both Print and Digital and across the cities and communities that we serve. We think this is a name which better reflects what we do and what our ambitions are."
Trinity Mirror said revenue from print publishing fell by 11.3% last year to £493.9m, with print advertising revenues down by nearly 25%.
Digital revenues grew 7% to £83.9m, although digital classified revenue - which is closely linked to print sales - fell by 25%.