Shoddy trade work 'causes knock-on costs'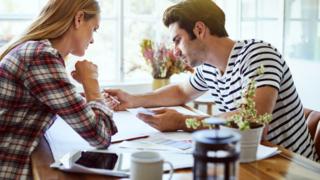 Shoddy tradesmen and faulty goods have a massive knock-on effect on the lives of consumers who should be better protected, Citizens Advice has said.
Millions of people were left having to deal with the fall-out from consumer problems, ranging from broken broadband to shoddy home renovations.
Some 17% of those asked had to take time off work, and a quarter spent more than a month sorting out their problem.
The charity says consumers should be able to settle disputes out of court.
It said Alternative Dispute Resolution schemes - which usually involve an independent mediator but are voluntary - should be enforced by law across all markets.
Compensation
A Citizens Advice survey of 5,000 people found the most common consumer problems (22%) were with mobile and broadband services, which cost an average of £80 to solve.
Earlier this year Citizens Advice called on the government to appoint a telecoms consumer advocate to help promote the case of fed-up customers.
Knock-on effects encountered by consumers following shoddy work or faulty products included additional debt, a damaged credit rating, and making calls or writing emails to sort out the problem during working hours.
The charity said it had seen 500,000 cases of consumer problems in the past year.
"This is another example of how the odds are stacked against consumers in favour of big business," said Gillian Guy, chief executive of Citizens Advice.
"The government should use its upcoming Consumer Green Paper to strengthen the voice of consumers and make it easier for them to seek compensation without having to go to court."
A spokesman for the government said: "The UK has a strong consumer protection regime and we want to ensure people have access to information and compensation when things go wrong. Our Consumer Green Paper will look at ways to make it easier for people to engage with markets to find the best deals."
A separate report suggests that women are less likely than men to make a complaint about faulty goods or poor service.
The UK European Consumer Centre, which assists with cross-border consumer problems, said only 28% of complainants it assisted were women.
"It is generally understood that women don't use legal advice services the same as men do - certainly our figures bear that out. Maybe men aren't so good at resolving their problems without advice, " said Andy Allen, the organisation's service director.