Weinstein Company assets sold to female-led group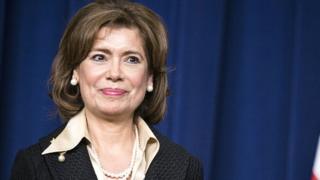 The company co-founded by disgraced US movie mogul Harvey Weinstein has been bought and will now be run by a largely-female board.
Businesswoman Maria Contreras-Sweet is leading the investor group that is paying $500m for the company's assets, which include films and TV programmes.
That figure includes a $90m victims' compensation fund.
Mr Weinstein is facing dozens of allegations of sexual abuse, including rape, but he denies non-consensual sex.
The Weinstein Company said at the beginning of this week that it would file for bankruptcy.
However, New York Attorney General Eric Schneiderman stepped in and a deal to buy the assets, including a library of 277 films, was agreed on Thursday.
Some 150 employees who work for The Weinstein Company will be invited to join the new business.
Ms Contreras-Sweet said the new owners would "launch a new company, with a new board and a new vision that embodies the principles that we have stood by since we began this process last fall".
"Those principles have never wavered and have always been to build a movie studio led by a board of directors made up of a majority of independent women, save about 150 jobs, protect the small businesses who are owed money and create a victims' compensation fund that would supplement existing insurance coverage for those who have been harmed."
The board of The Weinstein Company said: "We consider this to be a positive outcome under what have been incredibly difficult circumstances."
Ms Contreras-Sweet, who led the US Small Business Administration under President Barack Obama, will chair the new entertainment business.
In a letter she sent to The Weinstein Company last November, outlining her plans for buying the assets, she said: "I will be chairwoman of a majority female board of directors.
"Women will be significant investors in the new company and control its voting stock."
Details about Mr Weinstein's alleged sexual abuse, including allegations of rape, emerged last October when The New York Times published a story detailing claims of harassment by the film producer stretching back over years.
In her letter to the company, Ms Contreras-Sweet wrote: "As a long-time business leader and advocate for gender and racial equality, I have been profoundly affected by the recent revelations surrounding this company's leadership.
"You must care, as I do, about the women who have suffered the indignities inflicted upon them. I feel compelled to take action to provide them some remedy for what they endured."
As part of the deal, the new entertainment group will take on about $225m worth of debt and will make a significant investment in the business, as well as setting up the compensation fund.
Commenting on the agreement, Mr Schneiderman told The New York Times: "As part of these negotiations, we are pleased to have received express commitments from the parties that the new company will create a real, well-funded victims' compensation fund, implement HR policies that will protect all employees and will not unjustly reward bad actors."