Foxtons hit as London housing market ebbs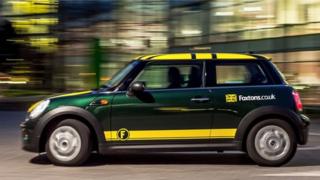 Estate agent chain Foxtons has reported a slump in profits as it warned that activity in the London housing market was near historic lows.
The slowdown "had a significant impact on our overall performance in 2017", the estate agent said.
Foxtons saw profits drop 65% for the year to 31 December 2017.
In January, lender Halifax said that house prices across the UK grew more slowly in 2017 than in the previous year.
Foxtons expects "trading conditions to remain challenging during 2018" and said that its current anticipated sales were lower than at the same time last year.
But it added that the London market had "attractive long-term characteristics".
In 2017, revenues at its lettings business fell 3%. The firm said that government plans to ban fees charged to tenants were likely to hit its business model.
"Though at this stage it is unclear exactly what the legislation will look like, we are exploring ways to mitigate the impact," said chief executive Nic Budden.
The company, which had benefited from London's property boom, saw profits more than halve in 2016 as well.
It warned as early as 2014 that the housing market was cooling.
In September last year, Nationwide said that London property prices had fallen for the first time in eight years.