Aston Martin roars back into the black with £87m profit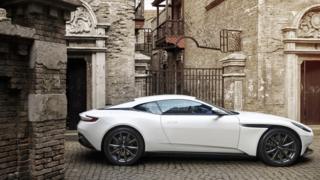 Aston Martin, James Bond's car maker of choice, sold just over 5,000 vehicles last year, allowing the firm to post its first annual profit since 2010.
The British sports car producer made a pre-tax profit of £87m last year, compared with a £163m loss in 2016.
Its flagship DB11 coupe proved popular with buyers, helping drive its sales tally to a nine-year high, Aston Martin said.
It also confirmed it is considering a stock market listing.
Revenue jumped 48% to £876m.
Boss Andy Palmer, who took over in 2014, has pursued a turnaround plan intended to broaden Aston Martin's model range, quadruple volumes and make its first SUV at a new plant in Wales.
He said the new models would result in output rising "significantly" above 5,000 cars in 2018.
"I would expect the factory to be max-ing out in terms of its production capability towards the second half of the year."
It is understood that Aston Martin's main shareholders, Italian private equity fund Investindustrial and a group of Kuwaiti investors, have hired the investment bank Lazard to advise it.
The car maker could opt to float in the second half of the year, or could look for a buyer.
"We've now been asked to consider a range of strategic options for the future of the group - and one of those options of course is an IPO (initial public offering)," Mr Palmer said.
He also said Aston Martin was applying to have the new Vantage model licensed by a regulator in the European Union rather than the UK due to uncertainty about vehicle rules after Brexit.
The DB11 was unveiled at the Geneva motor show in 2016 and was the first redesign of its DB range in 13 years.
Mr Palmer said at the time it was the most important car in Aston Martin's history.
The car seen in the most recent Bond film, Spectre, was a DB10. Just 10 were made specifically for the shoot and just two survived filming.