British Rail could be revived under Labour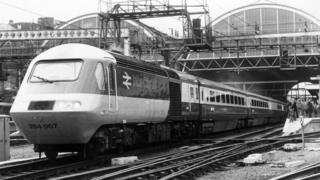 Labour could bring back British Rail as part of its renationalisation plan, with shadow chancellor John McDonnell promising "full integration, as best we can" between track and train.
Management of the network - track, signalling and major stations - was split from train operations during the break-up of British Rail in the 1990s.
The network is now run by Network Rail, a government-controlled company.
The trains are split into 25 privately owned franchises.
In an interview with the BBC, Mr McDonnell hinted Labour would not buy back franchises and compensate their shareholders with government bonds - the system he has suggested for water renationalisation - but rather wait for franchises to expire.
"As the franchises end, we would bring them back into public ownership," he said.
"We want to ensure full integration as best we can, because that will bring efficiencies. It will mean a more effective and a safer railway."
Industry experts are split over the case for reintegration, let alone nationalisation.
Michael Holden, the experienced railway executive who was called to run Directly Operated Railways, the government-owned franchise that took over the East Coast main line in 2007, said he was not in favour.
"I think if it's done properly, the current system can work well. You have train companies which are focused on the passenger, and of a size that you can properly manage. You are not always worried about the infrastructure problems," he said.
Despite privatisation, the railway network is still heavily reliant on government subsidy, with the government injecting about £3.5bn a year.
You can download the podcast of Dominic's full report on the Today programme here.