Disruption continues at KFC amid delivery problems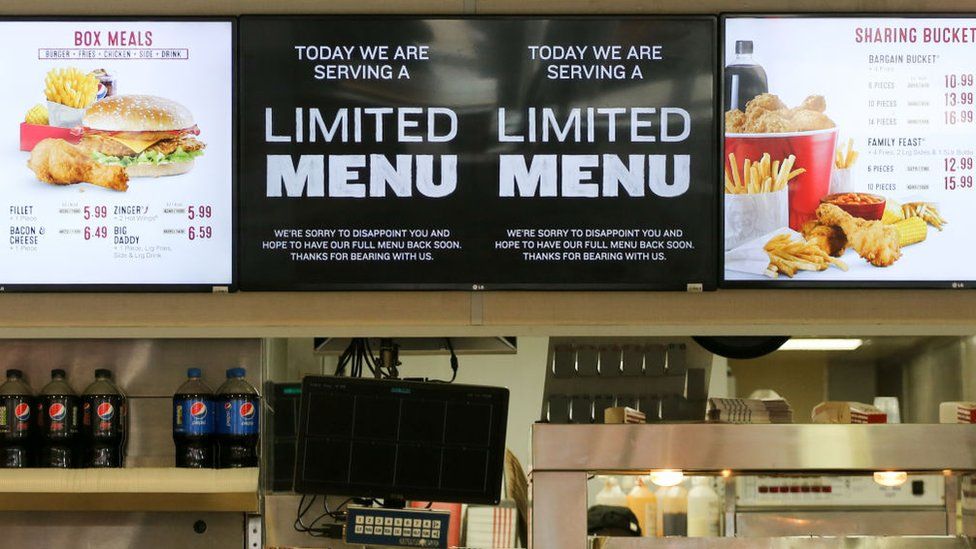 More KFC outlets have reopened amid disruption caused by delivery problems.
By mid afternoon on Wednesday 628 of the 900 stores were open, compared with 430 at 13:00 on Tuesday.
However, some KFC outlets will remain closed for the rest of the week, while others will have a reduced menu or shortened hours.
Last week the fried chicken chain switched its delivery contract to DHL, which has blamed "operational issues" for the supply disruption.
KFC admitted there would be "significant losses", as a result of the problems but said "we can't put a precise figure against this".
It also said "regrettably some chicken had to be scrapped", but added "we are doing everything we can to avoid wastage".
"To be clear, nothing will leave for delivery or be served at our restaurants that doesn't meet our incredibly high standards."
In its latest statement KFC said nearly 70% of its restaurants were now open for business. "We anticipate the number of closures will reduce over the coming days. More deliveries will be made today as our teams continue to work flat out all hours to clear the backlog caused by the breakdown in the DHL distribution system.
However, it added: "We still expect the disruption to some restaurants to continue over the remainder of the week which means some will not be open and others will operate with a reduced menu or shortened hours.
Until 13 February, KFC's chicken was delivered by specialist food distribution group Bidvest.
But after the contract switched to DHL, which uses software developed by the firm Quick Service Logistics (QSL), many of the food giant's outlets began running out of chicken products.
The delivery problems centre on DHL's depot at Rugby. It is the only DHL warehouse working for KFC and was was purpose-built to handle the KFC contract.
KFC said the waiting time now "varies" but it had been working "flat out all hours to clear the backlog and get more and more deliveries moving".
Rugby Borough Council has also confirmed that the depot was being used to store chicken before it had been registered to do so.
When environmental health officers from the council learned this on Tuesday through media reports, they visited the depot. They checked for such things as temperature control, date coding and food handling.
A spokesman for the council said what DHL was doing from a food hygiene point of view was "absolutely fine", adding that the council is "satisfied with what they are doing".
After the visit, the company submitted the registration documents and the depot is now registered.
GMB Union national officer Mick Rix told the BBC "a number" of things had gone wrong.
He said KFC switched the contract from a "very well respected, specialised logistics provider that deals with multi-temperature shipments of frozen food" to "a provider who's not got a track record in this area".
Mr Rix said the union had warned the company "months ago" about potential problems. Mr Rix said: "For months now they have known that they need to get this depot up and running, they haven't got the correct staff numbers, they don't have the correct driver numbers and of course the layout and all the specialised issues that go with running a large multi-temperature depot has just not been in place.
He said KFC knew "weeks ago", that they were going to have problems "and they've done very little to rectify the problems".
When Bidvest lost the KFC contract it closed a depot and 255 jobs were lost.
Mr Rix said DHL and KFC executives should be "saying sorry" to people who were made redundant and to the "people working the franchises who are not getting paid".
"They've been laid off, they're not at work, they're not getting paid, many of them are on zero hours contracts".
Of KFC's 900 outlets 780 are run by franchisees.
"From the information we have been given, nine out of 10 [in 708 of 780 restaurants] of our team members will not be financially worse off this week than they would have been if we were fully operational," said KFC.
"While not perfect, the remaining 10% are ensuring that they do everything possible to provide hours or take paid leave."
In the KFC owned restaurants, salaried staff are being paid as normal, while hourly paid staff are being paid based on the average hours worked over the last 12 weeks.