Walmart shares fall 10% as online sales slow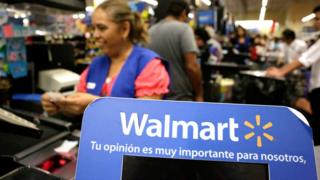 Walmart shares suffered their biggest percentage fall for more than three decades on Tuesday after reporting disappointing online sales figures for the Christmas period.
Online sales were 23% higher in the three months to December.
However, that was less than half the growth recorded in the previous quarter and lower than in the same period of 2016.
Shares in the world's largest retailer fell just over 10% to $94.11.
The retailer said its online revenues totalled $11.5bn last year, but it lost money on those sales. Chief executive Doug McMillon said e-commerce losses would be "about the same" for 2018.
He told analysts the company was making progress in its efforts to compete with Amazon and other competitors.
"We're confident in our strategy to transform the company," Mr McMillon said. "It's really about providing more convenience to customers."
It plans to spend more on Walmart.com and cut back on marketing for its Jet.com site, which aimed at younger and better off shoppers. Walmart paid $3.3bn to buy Jet.com in 2016.
While sales at Walmart's US stores rose by a better than expected 2.6% in the fourth quarter, net profit sank 42% to $2.2bn (£1.6bn).
Asda, Walmart's UK supermarket, reported a 0.5% rise in like-for-like sales - its third consecutive quarter of sales growth.
Mr McMillon said he was encouraged by Asda's continued recovery, but said there was "more work to do".
Bryan Roberts, retail analyst at TCC Global, said the company "played a good game over Christmas", adding: "We've seen a marked improvement in service levels and sharper all-round availability."
Asda lost its place as the UK's second-biggest supermarket to Sainsbury's in late 2015 and the likes of German discounters Aldi and Lidl have also eaten into its market share.
Mr Roberts said the latest sales figures hinted at a return to form.
"In its heyday, Asda really appealed to younger families. Its supermarkets were fun places to be," he said.
"It's lost some of that spirit over the years, but its recent seasonal campaigns - such as at Christmas and Halloween - show it still has that capability in the locker. A focus on recapturing a year-round family appeal could catalyse its ongoing recovery."