Japan's man in UK says unprofitable firms could not stay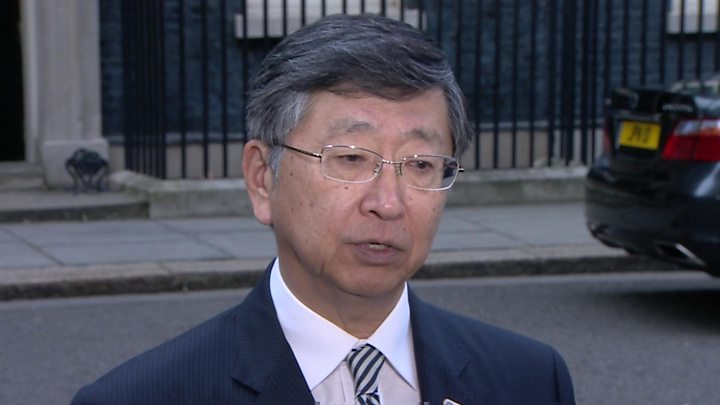 Japan's ambassador to the UK has said Brexit is a high stakes issue and that no company would be able to stay in the UK if it was not profitable.
Koji Tsuruoka was speaking outside Number 10 after a meeting between Prime Minister Theresa May and 19 top Japanese bosses.
Mrs May had told the business leaders that Brexit would allow the UK to strike a free trade deal with Japan.
She said the government's industrial strategy made the UK "more attractive".
However, Mr Tsuruoka told journalists: "If there is no profitability of continuing operations in the UK - not Japanese only - no private company can continue operations. So it is as simple as that."
He was asked about the threat to Japanese companies if the UK did not secure a frictionless trade deal with the EU after Brexit.
"This is all high stakes that all of us, I think, need to keep in mind," he answered.
Pro-Brexit businessman John Mills, said: "Clearly companies have to make a profit.
"But there's no reason they shouldn't make a profit with a WTO [World Trade Organisation] deal," added Mr Mills, who is chairman of consumer products firm, JML.
'No small undertaking'
During the meeting Mrs May told attendees from companies including Mitsubishi, Honda, Nissan, Toyota and Panasonic that Brexit was "no small undertaking".
She also said the government's modern industrial strategy made the UK "more attractive".
"Just today we have seen the Bank of England raise its forecast for UK growth compared with its estimates three months ago," Mrs May added.
The meeting comes amid concern over estimates of the impact of Brexit on economic growth.
Chancellor Phillip Hammond, Business Secretary Greg Clark and International Trade Secretary Liam Fox were also at the meeting.
"I recognise that the UK's forthcoming exit from the European Union is no small undertaking, but importantly it does present the opportunity to strike free trade deals around the world and build on our already very strong relationship that we have with Japan," Mrs May told the assembled bosses.
"As we look to the relationship between the UK and Japan we see already year-on-year trade between our two countries continues to increase, with Japans's investment in the UK reaching £46.5 billion in 2016."
Alongside the car companies Honda, Nissan, Mitsubishi and Toyota, representatives from Japanese banks and drug companies were also due to attend the meeting.
Japanese firms have spent billions of pounds in Britain over the past decades, encouraged to set up in the country by successive governments promising a business-friendly base from which to trade across the continent.
Nissan, Toyota and Honda began their UK operations in Britain in the 1980s and now build nearly half of all of Britain's 1.67 million cars. The big majority of these are exported.
The motor industry has expressed concern that their exports could face tariffs of up to 10% and be subject to customs delays after Britain leaves the European Union.
Japanese drug companies have also made Britain their European base. Some are concerned about future drug regulations, with any divergence with the EU likely to pose regulatory challenges.
London is also home to Japanese banks, such as Nomura, Daiwa Securities and Sumitomo Mitsui Financial. Like other foreign banks, they are keen to know about trading and so-called "passporting" arrangements for access to the EU.
In 2016 Nissan chief executive Carlos Ghosn met prime minister Theresa May amid fears over the future of its production plant in Sunderland.
Nissan sought assurances over post-Brexit arrangements ahead of future investment in the Sunderland plant, Britain's biggest car factory.