US stock plunge sparks global sell-off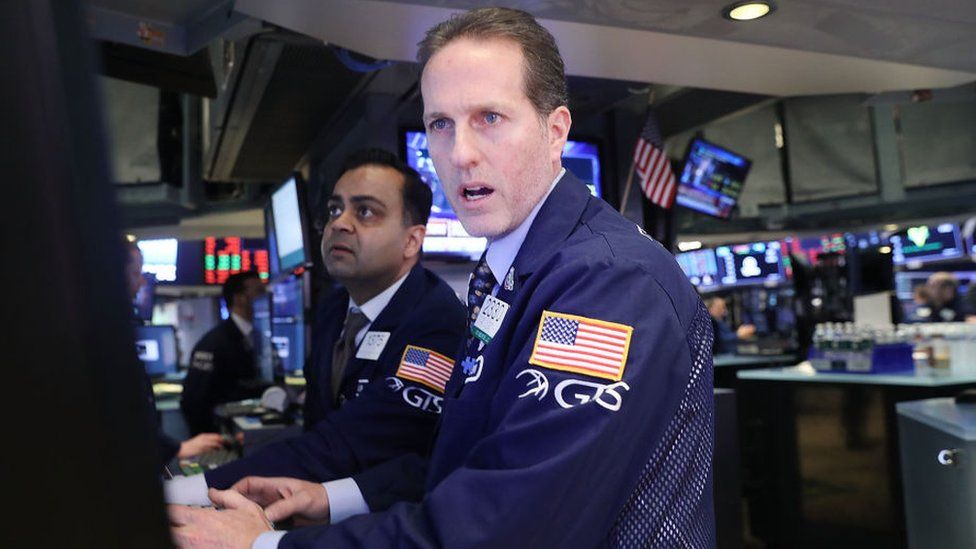 US stocks suffered their worst falls in more than six years on Monday in a sell-off sparked by concerns of higher interest rates.
The Dow Jones Industrial Average index tumbled 1,175 points, or 4.6% to close down at 24,345.75.
The White House moved to reassure investors saying it was focused on "long-term economic fundamentals, which remain exceptionally strong".
Signs of improvement in the economy had driven US markets to record highs.
Ever since he was elected in November 2016 President Donald Trump has tweeted a number of times about the increase in US stock markets, using the gains since he took office to illustrate market improvement.
"Economic news from the US has been stronger than anticipated," said David Kuo, chief executive of financial services advisory Motley Fool.
"So, perversely, the market correction has been caused by positive economic news".
Monday's decline is the largest decline in percentage terms for the Dow since August 2011, when markets dropped in the aftermath of "Black Monday" - the day Standard & Poor's downgraded its credit rating of the US.
What has the reaction been?
The drop on the Dow was closely followed by the wider S&P 500 stock index, down 4.1% and the technology-heavy Nasdaq, which lost 3.7%.
In London, the FTSE 100 index of leading companies also fell to close down 1.46% or 108 points lower.
In Tuesday's early Asian trade, stocks were following Wall Street's lead. Japan's benchmark Nikkei 225 sank 4.8% before recovering slightly, while Australia's benchmark S&P/ASX 200 was down 2.7%. In South Korea, the Kospi lost 2.3%.
Investors are reacting to changes in the outlook for the American and global economy, and what that might mean for the cost of borrowing.
The stock market sell-off accelerated on Friday when the US Labour Department released employment numbers which showed stronger growth in wages than was anticipated.
CMC Markets analyst Michael McCarthy said the wage numbers "blew lower interest rates out of the water".
"The share selling....reflects a higher than previously anticipated interest rate environment," Mr McCarthy said.
In response to that, investors moved to sell out of stocks and put money into assets like bonds which benefit from higher interest rates.
"This isn't a collapse of the economy. This isn't a concern that markets aren't going to do well," said Erin Gibbs, portfolio manager for S&P Global Market Intelligence.
"This is concern that the economy is actually doing much better than expected and so we need to re-evaluate," she said.
Stronger global growth has prompted central banks in Europe, Canada and elsewhere to ease away from policies put in place to stimulate the economy after the financial crisis.
What impact will this have?
Analysts say investors should be prepared for choppier stock markets in the months ahead.
But the Dow closed Monday having shed about a third of its gains since Mr Trump took office in January 2017.
Joel Prakken, chief US economist for IHS Markit, predicts share price gains will be limited over the next two years.
But he added that markets would need to deteriorate more significantly for him to start to worry about the broader economy.
"The difference between this year and last year is we're going to see more periods of volatility like this as the market reacts to higher inflation," he said.
"We're just not used to it because it's been so long since we've had a significant correction."
What does it mean for investors?
Investors have been bracing for a downturn after months of seemingly unstoppable gains.
Amid the market plunge on Monday, websites for several large money management companies suffered slowdowns or crashes.
Wall Street firms also said they have been fielding calls from people worried about their investments.
Analysis: By Anthony Zurcher, BBC North America reporter
Boasting about stock market gains is a dangerous game that most presidents avoid playing. Barack Obama did it occasionally, but only after the US economy had climbed significantly from the wreckage of the 2008 collapse.
After warning of a market bubble during the campaign, however, Donald Trump became the Dow Jones's biggest cheerleader- in tweets, at rallies and even during last week's State of the Union address. That set up the jarring visual of the president boasting about the benefits of his tax cuts in a speech as the markets headed south.
US cable news channels, which had been airing the president live, cut into their coverage to report on the record-setting day. It was a highly visible hiccup in the recent US economic success story that will be hard for most Americans to miss.
The president will make the case that the fundamentals in the economy are still strong. Wages are up and unemployment is down - possibly contributing to stock drop. If growth continues, this could be chalked up as yet another rhetorical mis-step by a non-politician.
If it's the beginning of a larger correction in an election year, however, the president's words could come back to haunt him.
You might also be interested in: