Interserve: The next firm worrying investors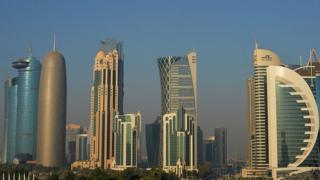 If I described a company that had issued a big profit warning, watched its shares fall by nearly 80% in 18 months, been handed several big public sector contracts, seen work in the Middle East cancelled, witnessed a big rise in its debt pile, recently changed chief executive and finance director and had had its trade credit insurance withdrawn - you might think I am talking about the Carillion of a few months ago.
I am, in fact, describing a company called Interserve which, despite some important differences, is the company that bears the closest resemblance to the liquidated Carillion.
Interserve won contracts last year with the Ministry of Defence, the Ministry of Justice, Network Rail and the State of Qatar.
Despite a new £102m contract in the Gulf state, its most recent financial report in July last year admits that "political developments in the region remain a clear risk to the business that could impact during the second half of the year and beyond".
In its UK construction business, Interserve has been losing money and been exiting contracts where it can.
On almost unchanged revenues, its operating profits fell 28% in the six months to July 2017 while the more important cash flow turned negative.
Meanwhile, its debt pile rose 41% to £387m as of July 2017 and is thought to be around £500m now.
After its profit warning in September, the new management conceded that it was possible it would not be able to honour the promises it had made to its banks, and in October its trade credit insurance was withdrawn - just as happened to Carillion nine months ago.
Similar, but different?
To be clear, there are some important differences.
The company cancelled the dividend nearly a year ago to preserve cash and its lenders recently advanced some short-term financing - a sign perhaps they believe the new management can turn things around.
The new chief executive, Debbie White, has already embarked on a turnaround plan that has included cutting both costs and headcount, which could boost profits by £15m this year.
Its debt compared to its net worth is high, but not nearly as high as Carillion's, and it has assets like plant and machinery and interests in joint ventures it could sell to raise cash - a luxury Carillion didn't have.
Carillion had a number of major projects that went sour whereas Interserve's problems stem primarily from one line of business - its energy-from-waste business - from which it is extricating itself.
The UK government says it is monitoring Interserve and in a recent statement declared "it doesn't believe any of its key suppliers are in a similar position to Carillion".
Interserve is a much smaller business than Carillion, but if you were looking for a mini-me this looks like a chip off the old block.
The predators in the financial markets who bet against companies - as they did so heavily with Carillion - are sniffing around Interserve.
A 14% intraday share fall in January didn't last long - the shares that day recovered most of their ground. Since then, however, the shares have gone below the trough hit that day and fell almost 20% on Thursday.
Like Capita, it needs to raise more capital by issuing new shares.
Unlike Capita, (which announced plans on Wednesday to raise £700m of new equity) it hasn't managed to do it yet.
As a major fund manager told the BBC: "There has been radio silence on that for some time which suggests they are not finding it easy. The outsourcing sector is going through a denouement - Interserve has been playing the same game (as Carillion) and that game is over."
The company announces full year results at the end of March.
It will feel like a long wait for holders of the shares and will feel like a lifetime of work for Ms White, who will have to reassure and convince the banks to stick with the company before she can reassure the markets.