Three million homes to get ultrafast broadband by 2020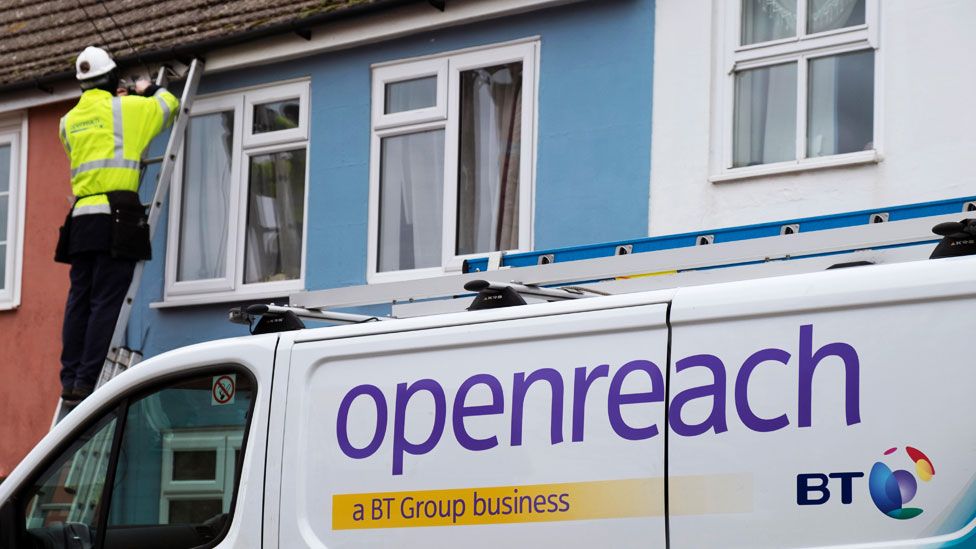 Openreach, the BT-owned firm that manages the UK's broadband infrastructure, has vowed to introduce "ultrafast" internet connections to three million premises by 2020.
The company said it was accelerating its plan to run fibre connections directly to homes and businesses.
It will increase internet speeds from 24 megabits a second under superfast broadband to 100 megabits.
The first phase will begin this year, targeting eight cities across the UK.
Openreach, which operates independently from BT, said Birmingham, Bristol, Cardiff, Edinburgh, Leeds, Liverpool, London and Manchester would form the first phase of the programme that will connect "up to 40 UK towns, cities and boroughs".
Analysis: Rory Cellan-Jones, BBC technology correspondent
Too little, too late. That is how BT's many critics will characterise the plan to bring full fibre connections into as many as 10 million homes by 2025.
They have always argued that the UK should have opted long ago for a national future-proof fibre-to-the-home network.
Instead, BT's approach has been to lay fibre to cabinets on the street and then rely on good old copper cables to take broadband into the home.
But that was driven by the government's order to make "superfast" broadband - a modest 24 megabits a second - available to 95% premises by the end of 2017. Culture Secretary Matt Hancock hailed the successful completion of that target this week.
That superfast target had some advantages: it got reasonably good and reasonably cheap broadband to many people in a hurry. In Hull, where the monopoly provider KCom opted instead to go straight to fibre to the home the rollout has been slow and the prices have been high.
But with the government switching tack and insisting "full fibre" is now the answer, BT has seen the light - though as its statement makes clear the speed of the rollout will depend on an "acceptable" return on its investment.
Alex Neill of consumer group Which?, said that the UK was far behind other countries in offering high speed internet access through fibre connections directly to homes or businesses.
She said: "When you look that 79% of people in Spain have got access to full fibre and yet only 3% of British homes have, clearly consumers will be asking why that is happening, especially when the majority of them have experienced a problem with their broadband in the last year."
Openreach said it already provided fibre connections 500,000 homes, mostly in rural areas.
Clive Selley, chief executive of Openreach, said: "Our focus over the last two years has been to achieve the government's target of getting 95% superfast coverage.
"Now having got to 95% the mandate is twofold: fix the last 5% and move on to the upgrade from superfast to ultrafast speeds."
While the Federation of Small Businesses welcomed investment in ultrafast broadband, its national chairman Mike Cherry said that "too many small firms across the UK are still coming up against poor coverage and slow speeds".
"Official Ofcom figures released last month show a shocking 230,000 small businesses are unable to access a decent connection of 10Mbps. In addition, around half a million small firms don't have access to a superfast connection. They cannot be left behind due to poor digital connectivity."
Openreach's Mr Selley said that homes and businesses would be connected using a "hybrid" of the existing copper-based network and fibre.
Culture Secretary Matt Hancock said: "I'm glad that Openreach have begun to make this shift in strategy, away from reliance on copper based systems and in favour of the best modern technology.
"We want to encourage a competitive market to rollout this technology and we will work with Openreach, Virgin, CityFibre, Gigaclear, TalkTalk and the growing number of full fibre broadband providers to build a Britain fit for the future."
Rival CityFibre, which is working with Vodafone to deliver fibre to the premises of five million homes and businesses by 2025, said: "It is recognised by government and Ofcom that the time has come to reduce the public's dependency on Openreach. It is not in the UK's best interest to encourage further entrenchment of the incumbent monopoly."