Davos 2018: Trump says the US is open for business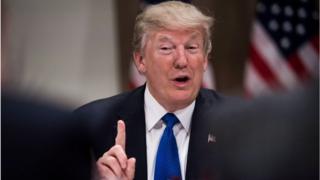 Donald Trump's message to top business leaders, politicians and celebrities gathered at the World Economic Forum in Davos will be that the US is open for business.
The speech will focus on US economic successes, its commitment to open markets and the empowerment of people left behind by globalisation, a senior White House official said.
"He's looking forward to talking about America and in particular America's role in the world," he added.
Reaction to the speech is likely to be mixed, with some African attendees saying they plan to walk out.
The threatened protest follows President Trump's comments earlier this month about African nations, when he reportedly called nations on the continent "shitholes".
Mr Trump has denied using that phrase.
'Universally positive reception'
His America First policy seems to be in contradiction of the conference's aim to promote globalisation and co-operation.
Davos jargon: A crime against the English language?
IMF: Global economic outlook is bright
Yet despite expectations that President Trump may not be welcomed in Davos, so far he has had a universally positive reception, with cheers on his arrival on Thursday in the main Congress Centre.
"He's very pleased with the reception he's had," the official said.
The conference hall is expected to be packed for his 15-minute speech with delegates being told to line up a full one-and-a-half hours before it begins if they want to get a seat.
The official said it would be an "optimistic speech" aimed at laying out the President's broad principles.
He said Mr Trump would talk about trade and "mention some specifics".
Trans-Pacific Partnership
President Trump was reported on Thursday as saying that the US could consider re-joining the Trans-Pacific Partnership, one of the world's largest trade agreements, if it got a "substantially better deal".
The US ditched the Asia-Pacific trade pact last year, but the White House official confirmed it was still open to negotiation.
"We're constantly talking to other countries, including the renegotiating of existing deals," the official said.
However, he said Mr Trump's address was "not designed to be a trade speech" but would "touch on broad themes".
"I don't expect you'll hear a lot of details," he said.