Russell Hume meat recall widens to hotels and retailers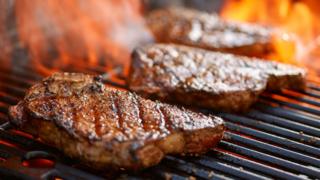 More big firms have been caught up in the problems of meat supplier Russell Hume.
Hilton Hotels said that a "small number" of its hotels have disposed of products from the meat supplier.
Derby-based Russell Hume is the subject of an investigation by the Food Standards Agency (FSA).
It says that none of its products have caused illness and the recall was a "precautionary measure because of mislabelling".
Environmental health professionals have called on the FSA to release more details about its concerns over the meat supplier.
"The public has been kept in the dark about the extent of the problem," the Chartered Institute of Environmental Health said.
Refunds
On Wednesday the FSA said it had stopped any meat leaving Russell Hume company sites and unused meat had been withdrawn from its customers.
But it did not specify what its concerns were from a site visit held 12 days before.
The shopping channel QVC said it was refunding customers who bought Green Seasons products.
Jamie's Italian also removed meat from the supplier, as did 18 Marston's pubs.
Bourne Leisure, which own Butlin's, Haven and Warner Leisure Hotels, said it had also used Russell Hume, but had switched to a different supplier for now.
On Wednesday Wetherspoon pubs said it had removed steak from the menu on their weekly steak night.
"We took the decision on Monday to withdraw sirloin steak, rump steak and gammon steak from our menu," said Wetherspoon spokesman Eddie Gershon.
Russell Hume has criticised the way the FSA has handled the investigation.
"Our customers are at the heart of our business and there has never been a suggestion of any Russell Hume-supplied product causing illness," the firm said in a statement.
The FSA's actions have "unfortunately" created a "very different impression", it said.
"Russell Hume is a business of 50-years standing and an unblemished record," it added.