Polish PM says UK must pay for EU access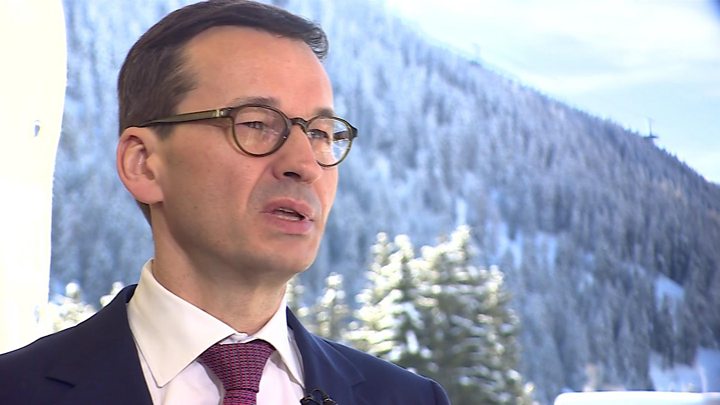 The Polish Prime Minister has said Britain will have to continue making financial contributions to the European Union if it wants to enjoy privileged access to the single market.
Mateusz Morawiecki said the EU would take a tough stance on Britain's desire for a comprehensive free trade deal.
He said he wanted a positive relationship, but that costs would be attached.
But a UK minister told me Britain would not agree to that "at the outset".
When I spoke to Mr Morawiecki in Davos I asked him whether Britain would have to pay to get "a good deal".
"I hope so," he told me.
"There has to be some price for full access and to what extent this access is going to be available has to be made dependent on some other contributions, potentially including this financial contribution."
Such a move could be controversial among many Brexit supporters in Britain - a point Mr Morawiecki agreed with.
"Yes, but you cannot have your cake and eat the same cake," he said.
The Polish PM's comments come a few hours after David Davis, the Secretary of State for Exiting the EU, rejected any plans to continue making contributions.
Mr Davis said Britain was a "proud country" and would not pay "some sort of Danegeld".
A Danegeld was a tax levied on the English to pay off Viking raiders.
Mr Morawiecki, who was formerly an adviser to Donald Tusk, the president of the European Council, said he believed there was a small chance that Britain could remain in the EU.
"I still have a little bit of hope that there will be a way of keeping the UK as part of the EU," he said.
"I fully respect the decision from the referendum, but maybe there will be other ways for the UK [to remain] as part of the EU.
"Because I think it's in the interests of the trans-Atlantic community - the pax-Americana, pax-European peace type of model - and for the rest of the world.
"It is extremely important for security, and global trade, and positive trends in the world."
He said if there was no reversal of the referendum - which the UK government has categorically ruled out - then he hoped "the deal between the UK and EU will be as positive for both parties as possible, because I don't want to punish anybody".
I asked the Polish PM whether Britain could have its own bespoke deal, which Theresa May has signalled she wants.
"I would like to indicate two other nations and countries which are [in a different position] - one of them is part of the EEA [the European Economic Area] like Norway, and they do have some financial contribution for the whole of the EU.
"The other one is where we are today, Switzerland, which has a series of bilateral agreements.
"So I think there are examples of how the new agreement can be shaped so that there is a real convergence, a real integration between the UK and the EU, despite Brexit."
Britain is a net contributor to the EU budget and government sources have told me that it is likely the UK will have to pay for special access - possibly via contributions to specific bodies such as for medicines - despite the public position that no payments will be made.
The issue is very important for Poland as it is a net recipient of EU funds and there are concerns that funding could be cut when Britain leaves the EU.
Dr Liam Fox, the International Trade Secretary, said that during the Brexit negotiations both sides would set out - often opposing - positions, and that compromises would have to be reached.
"It sounds to me like the opening shots of a negotiation and there is a long way to go in that," he told me in response to Mr Morawiecki's comments.
"There is no way the UK would agree at the outset to do that.
"What we are looking at is a balance.
"The UK will want access [to the EU] in services, particularly financial services.
"The European Union will want access to Britain's goods market, given that they have got a £82bn surplus with the United Kingdom.
"These things will be netted out over trade agreements.
"In a trade agreement both sides have to give something otherwise you don't get an agreement.
"As we have seen with the TPP [the Trans-Pacific Partnership] agreement, it can sometimes take a few little bumps before people get to the final place.
"So I think we don't assume that any opening positions will be the final positions."