Meet the woman on a mission to teach us about blockchain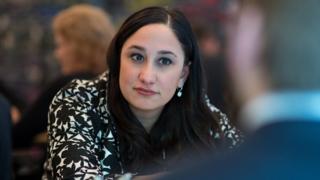 Jamie Smith will never forget the precise moment she became interested in blockchain.
"You can trace it to the exact age of my son," says the former White House deputy press secretary, whose impressive CV includes stints working for Barack Obama, Hillary Clinton and Madeleine Albright.
Two-and-a-half years ago, having left the White House and on maternity leave from a job in communications, a former colleague called and asked her to consider devoting her time to promoting the nascent technology.
Her reaction was not, at first, overwhelmingly positive.
"I think I said something along the lines of; are you crazy? that is criminal money, I don't want anything to do with this," she recalls.
Jamie's family felt the same way, confusing blockchain with its most popular (and often scorned) by-product, Bitcoin.
But after researching it further, she found blockchain too interesting to resist, and soon joined Bitfury, a company that helps organisations move to the platform, before becoming the chief executive of the Global Blockchain Business Council (GBBC), whose mission it is to "advance global understanding of blockchain technology".
It's the GBBC, backed by Richard Branson and former Swedish prime minister Carl Bildt, that has brought her to the World Economic Forum in Davos, where, for the first time, the "B word" is on everyone's lips.
A quick stroll along the Promenade confirms the importance of the technology to this year's WEF. Several large shops have been converted into blockchain "spaces", offering back-to-back sessions with utopian titles such as "Blockchain beyond Earth" and "Redefining human value".
The WEF's main programme is littered with similarly ambitious, albeit more conservatively titled, events, with a slew of accompanying publications offering up blockchain "solutions".
Not all those who attend, however, are familiar with precisely what blockchain is. Which is where Jamie Smith's communications background comes in.
"The original internet was created to move information, and it did," she explains, enthusiastically deploying her oft-repeated idiot's guide to the technology.
"The information we send to each other, has to be actually stored somewhere, so it's stored in databases.
"The problem is hackers are getting really good at getting into those silos, and once they are in, it is party time."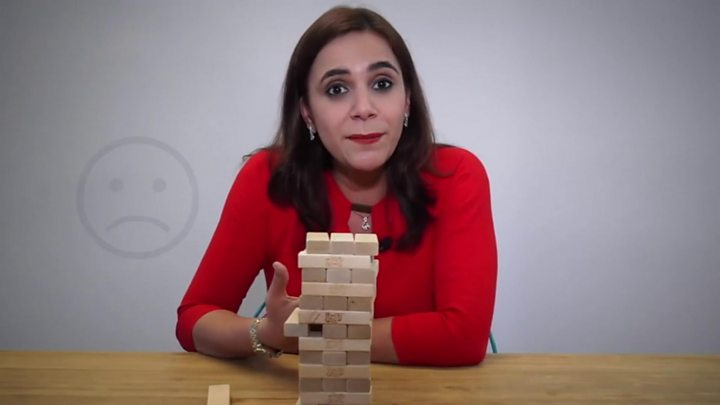 Blockchain, she explains, was invented a decade ago to combat this risk, by breaking up those "silos", such as an Amazon server farm, into thousands of pieces.
"Instead of breaking into a house, now you have to break into a town or city full of houses."
This allows for something known as "immutable records", which opens up a wealth of potential applications, according to Carlos Moreira, a former UN official who now heads WISeKey, a Swiss firm increasingly focused on crypto technologies.
Mr Moreira, who is on his tenth visit to the mountain, says this is the first year he can talk about blockchain without resorting to theoretical concepts.
"Rwanda is now using [blockchain] for land registries," he explains.
"E-voting is moving to the blockchain in some countries, Mauritius is using it for financial technology, India is using it for putting digital identities of citizens - it's making a big difference".
Others are passionate about what blockchain can do to prevent human trafficking, or to create reliable personal medical records.
There are commercial uses too, such as creating secure inventories for diamond companies and coffee producers. Walmart will use the technology to track food it imports from China.
The Davos reception, however, has not been entirely positive.
UBS chairman Axel Weber reflected the mood of many in high finance when he told delegates that his bank wouldn't touch Bitcoin, a crypto-currency that runs on blockchain, in case investors blame his business when its value collapses.
There's opposition from environmentalists too, who worry about the amount of power blockchain transactions require.
Joseph Lubin, the co-founder of a popular crypto-currency platform called Ethereum (one of whose best-known users is probably Gramatik) is not perturbed.
The former software engineer, who did a stint at Goldman Sachs before turning his attention to Blockchain, is evangelical about its powers.
"Our thesis is that the world has built tremendous layers of technology, but it's all on a foundation that is vulnerable to corruption and manipulation," he says, referring to the current infrastructure of the internet.
"If you put all the economic social and political systems we have built on a more trustworthy, secure and equitable foundation - they will be much better."
The softly-spoken Canadian, who now runs a global blockchain company called ConsenSys, also has a warning to the Davos doubters.
"It's not a religion," he says.
"There will be people who have vested interests that will try to protect their way of doing business.
"The smart ones are getting out ahead of this"
At the sidelines of an oversubscribed GBBC event, Jamie Smith has a similar message.
"Not understanding [blockchain] is close to malpractice," she says, adding that the difficulty of convincing Davos sceptics pales in comparison to the demands of her previous job.
"When I was at the White House, I used to call my dad a lot from the Rose Garden on difficult days," she recounts.
"I remember something he said to me all the time, which was: "If that place isn't hard, what is?"
What made that work worthwhile, she says, was the impact it would have on future generations, including her young son - to whom, she predicts, using blockchain will be as familiar as driving a car.
"The next generation," Jamie says, "will expect this kind of technology".
Davos, it seems, is beginning to catch on.