Truffle tree pension scam cost victims tens of thousands
By Brian Milligan
Personal Finance reporter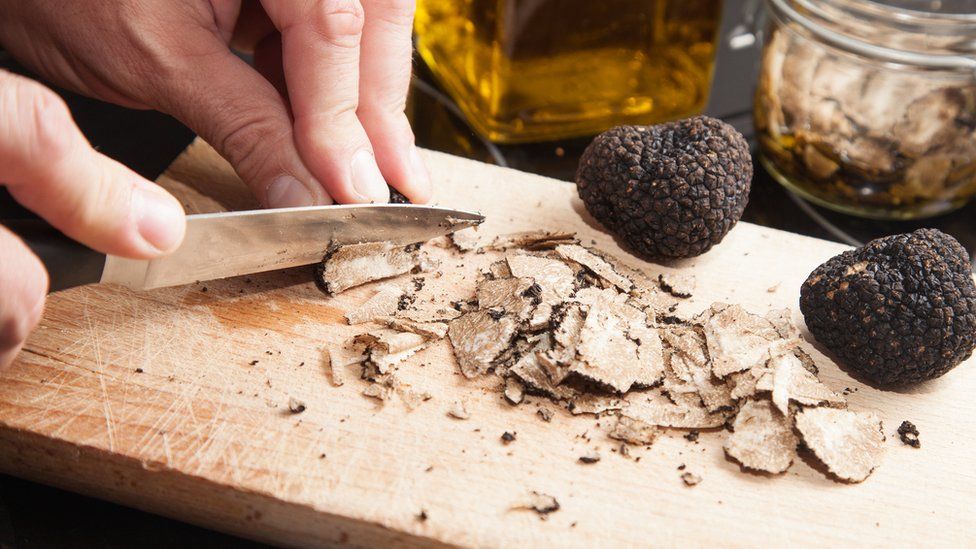 As many as 245 members of the public have lost an average of £55,000 each, after falling victim to a series of pension scams.
Among those who lost money was a couple from Hereford, who invested in a firm producing "truffle trees".
Four people who ran 11 dishonest schemes have been ordered to pay back £13.7m they took from their victims.
It was the first time such an order has been obtained, following new powers given to TPR under the 2004 Pensions Act.
In 2013, the Herefordshire couple transferred more than £78,000 to an investment organised by a man called Alan Barratt, after he told them they could get a better return on their investment.
They were assured the funds would be invested in low-risk investments. However, they were then sent details of a firm producing so-called truffle trees in the West Country.
Typically such providers inoculate oak trees with truffle fungi, with the promise of producing truffles within seven years.
The victim, a man aged 46, told the court: "As a result of my dealings with Alan Barratt, my final salary pension is in a scheme that I don't understand the status of, but which I have been told is a scam.
"As far as I know, the majority of my pension fund is invested in truffle trees, but I doubt whether that is legitimate. My partner appears to have lost her pension too.
"I deeply regret ever listening to Mr Barratt."
The couple did receive a payment of £11,800 as a commission. However, as a result they were also sent a tax bill of several thousand pounds from HM Revenue and Customs (HMRC).
A man from South Wales who gave up work to become a carer for his partner lost nearly £50,000.
After being approached by text message, he was persuaded to invest in the construction of time-share apartments in St Lucia.
"The loss of my pension will have a massive impact on my life," he said in a witness statement.
"When my children finish school, I will be around retirement age. There will be no money to draw down when I turn 55 and no pension savings for later life."
Another man - a council tenant from Hull - lost £17,000 after being cold-called by Susan Dalton.
He was promised a return of 5% a year, plus a 10% cash lump sum up front. But he never saw any return.
In his judgement, Judge Mark Pelling ordered David Austin and Alan Barratt to repay £7.7m. Mr Austin and Ms Dalton were jointly liable for an additional £5.9m, he said.
Mr Austin is a former bankrupt, with no experience of running an investment company.
The court heard evidence that he used the money to live a life of luxury including ski holidays and trips to Dubai.
The judge said he was satisfied that Austin was the mastermind behind the scam, which also involved another man called Julian Hanson.
Judge Pelling also directed TPR to refer the matter to the Director of Public Prosecutions (DPP) - to decide whether criminal charges should be considered.
Related Internet Links
The BBC is not responsible for the content of external sites.