Twitter's Anthony Noto leaves to join SoFi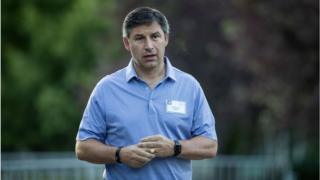 Twitter's chief operating officer Anthony Noto has left the social network to join social lender SoFi as chief executive.
Mr Noto was responsible for Twitter's business operations and revenue-generation operations.
His duties will be taken over by other members of the social network's leadership team.
"Working at Twitter has been a once in a lifetime opportunity," said Mr Noto, saying it was "bittersweet" to leave.
"I am immensely proud of our team and the key milestones we achieved during my time at the company."
SoFi said it felt Mr Noto's "deep understanding of technology, consumer, and financial businesses" made him the perfect fit to be its chief executive.
The social lender has more than 430,000 members and funded $25bn (£18bn) in loans in 2017.
Shares in Twitter slid by more than 3% on Monday on the news that Mr Noto might be poached by SoFi, and fell a further 2.4% on Tuesday following the announcement.
"I'm really sad to see Anthony Noto leave us, but I'm happy for him and really proud of everything he's accomplished at Twitter," said Twitter's co-founder and chief executive Jack Dorsey.
"He's been a friend, partner, and mentor to me for years. He always has my support and gratitude."