Manchester United remain football's top revenue-generator
By Bill Wilson
Business reporter, BBC News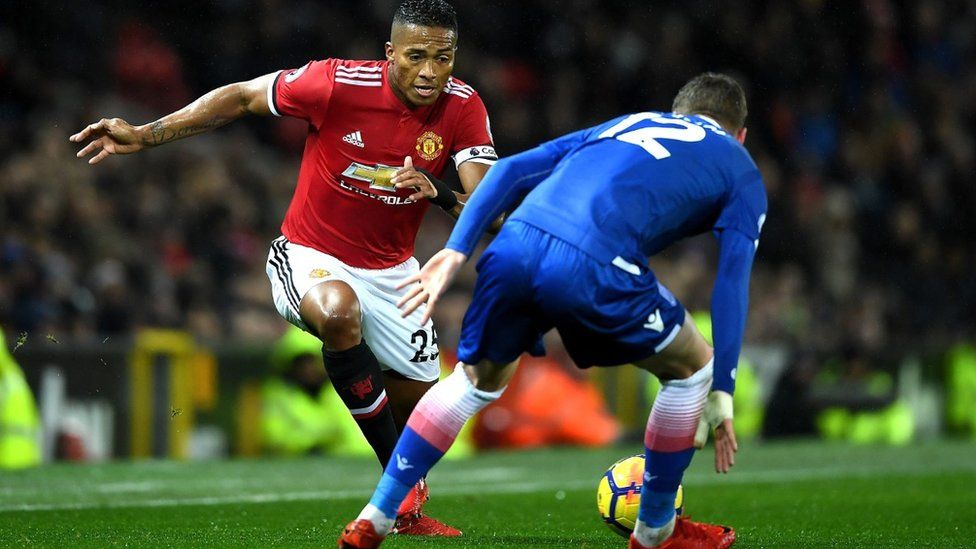 Manchester United have topped the table of the world's 20 richest football clubs for the second year in a row, and 10th time overall, says Deloitte.
Its Football Money League, based on season 2016-17, also shows the combined revenues of the 20 clubs has risen 6% to €7.9bn (£6.97bn), a new record.
Real Madrid, which held top spot for 11 years, were second and Barcelona third.
There were a record 10 English Premier League clubs in the top 20. The number in the top 30 was up from 12 to 14.
The list only looks at revenues accrued and does not take into account club debts.
This year's battle for first place was the closest yet, with just €1.7m separating Manchester United and Real Madrid.
Manchester United's €676m revenues were boosted by €44.5m from Uefa after winning the Europa League against Ajax.
Deloitte said this sum was "the critical factor in keeping them ahead of Real Madrid and Barcelona".
Bayern Munich and Manchester City completed the top five, retaining their positions from last year.
Arsenal, Paris St-Germain, Chelsea, Liverpool and Juventus occupied places six to 10. Tottenham were in 11th spot, Leicester City 14th, West Ham 17th, Southampton 18th and Everton 20th.
All the 20 clubs represented are from the "big five" European leagues, with Italy, Germany and Spain contributing three clubs each and France one.
AC Milan fall out of the top 20 for the first time and AS Roma for only the third time
Southampton are the only debutant in the top 20 after broadcast revenues soared
AFC Bournemouth are the only debutant amongst clubs ranked 21 to 30
China and the USA may see a member club enter the list in future
"Next year, we expect the eight billion euros [revenue] barrier will be broken, but revenue growth is not expected to be as significant as seen in 2016-17," said Dan Jones, partner in Deloitte's Sport Business Group.
"Germany's new domestic broadcast deal commences and will increase revenue, but Premier League and La Liga distributions will remain relatively stable, as both enter the second year of existing TV deals.
"Looking further ahead, the long term composition of the Money League is an intriguing topic. English clubs' dominance will depend heavily on the outcome of the Premier League's ongoing tender for the next three year TV deal starting from 2019-20."
DELOITTE FOOTBALL MONEY LEAGUE
•1. Manchester United: €676.3m
•4. Bayern Munich; €587.8m
•5. Manchester City: €527.7m
•7. Paris Saint Germain: €486.2m
Source: Deloitte, revenues for 2016-17 season.
Deloitte says that participation and performance in Uefa competitions has always been a critical success factor in the Money League, "but its impact on clubs' revenue is more noticeable than ever".
The Champions League and Europa League played an important role in improving, or retaining, positions for Manchester United, Leicester City, Napoli and Southampton,
Meanwhile, FC Zenit St Petersburg and AS Roma lost their top 20 status after weakened European performances compared with 2015-16.
A return to the Europa League also buoyed Southampton's revenue.
Related Internet Links
The BBC is not responsible for the content of external sites.