Carpetright shares crash on profit warning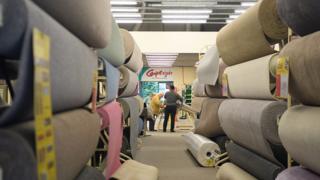 Shares in floor coverings specialist Carpetright have plunged 40% after it warned that full-year profits would be much less than expected.
It blamed the profit alert on a "sharp deterioration" in UK trade, with sales in the key post-Christmas period "significantly behind expectations".
Carpetright now expects profits to be between £2m and £6m, compared with analysts' estimates of about £14m.
In the 11 weeks to 13 January, like-for-like sales fell 3.6% in the UK.
With official data released on Friday confirming 2017 as the weakest year for UK retail since 2013, Carpetright's profit alert will add to concerns that consumers plan to rein in spending this year.
The company's fortunes are closely tied to the strength of the UK housing market.
Matt Walton: senior retail analyst at GlobalData, said: "Carpetright's profit warning is the latest indication that big-ticket retailers had a tough end to 2017, after Multiyork and Feather & Black fell into administration."
'Sharply down'
In Carpetright's core flooring business, like-for-like sales - which strip out the impact of store openings and closures - have fallen 7.1% since Christmas.
The company has more than 400 stores across the UK and also has more than 100 outlets outside the UK, in Belgium, the Netherlands and the Republic of Ireland, making it the biggest floor covering chain in Europe.
Carpetright chief executive Wilf Walsh said: "We have seen a significant deterioration in UK trading during the important post-Christmas trading period.
"While average transaction values were up year-on-year, the number of customer transactions since Christmas were sharply down."
In December, Carpetright had said it expected profits to be at the "bottom end" of expectations amid a "volatile and unpredictable" consumer market.
Neil Wilson from ETX Capital, said: "Profits warnings rarely come alone and so it has proved with Carpetright's shocker today. As we noted in December, the guidance appeared like wishful thinking and so it turned out to be the case.
"Again it's the same old story as with other brands that have failed to adapt to changing consumer trends."
Carpetright's figures weakened shares in some other retailers, with DFS Furniture down 3.8% and home improvement chain Kingfisher 3% lower at midday.