Mapping Carillion's biggest construction projects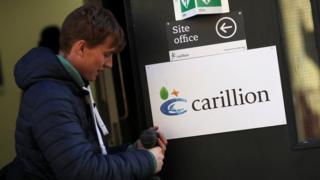 The collapse of construction giant Carillion has put thousands of jobs at risk on projects all over the country.
Work has ceased on Carillion's building sites while decisions are made over their future.
Carillion construction and infrastructure projects
This map shows some of the major projects on Carillion's books - including those already under way and other planned works.
About 40% of Carillion's revenue in 2016 was from construction projects both in the UK and overseas.
Most of the rest of the company's revenue came from public sector contracts, such as maintaining, cleaning and supplying meals for schools, prisons and hospitals.
The government has said this work will continue until new suppliers can be found.
Carillion was involved in a range of construction and infrastructure projects in the UK from new rail lines and electrification, to road widening and bypass schemes, as well as building two major new hospitals and a city centre redevelopment.
Below are some of the projects identified so far:
Road projects
Rail projects
Construction
Power line
Are you a Carillion employee or contractor? Please share your experiences with us by emailing haveyoursay@bbc.co.uk.
You can also contact us in the following ways: