Carillion collapse: 'Sites are silent and virtually deserted'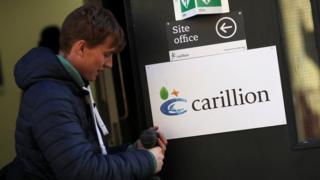 The timetables of big UK building projects have been thrown into doubt by the collapse of Carillion.
Major new hospitals in Liverpool and the West Midlands face further delays after the liquidation of the UK's second biggest construction firm.
Work has yet to restart on those sites, causing uncertainty among workers and contractors about the next steps.
Other firms will also need to step in to finish road and rail projects spanning the UK.
Carillion leaves behind major transport projects in places including Aberdeen and Yorkshire after its collapse on Monday.
But the biggest concerns are for the new Royal Liverpool Hospital and the Midland Metropolitan Hospital.
Toby Lewis, chief executive of the Sandwell and West Birmingham Hospitals NHS Trust, said local healthcare partners were "anxious to re-establish timescale clarity" for the Midland Metropolitan Hospital.
The overdue 669-bed hospital is "two-thirds built" and ministers have reassured staff that it remains a priority, he said.
The Liverpool hospital is closer to completion and will be finished, but its opening date is unclear after it was pushed back again by Carillion in December, according to the Royal Liverpool and Broadgreen University Hospitals NHS Trust.
---
Royal Liverpool Hospital
By Kaleigh Watterson, BBC North West
It looks all quiet at the site of the new £335m Royal Hospital in Liverpool. Despite all the lights being on in the building, there appeared to be no work taking place.
One person on site, who did not want to be identified, said there were 100 staff there - both Carillion and subcontractors.
He said they had been told that another company would come in to oversee the work on the new hospital and that work would start again next week.
Workers and subcontractors were briefed today and "reassured that any work that they undertake going forward will be paid for", according to the local hospital trust.
But the statement makes no mention of any back pay.
Looking at defaced signs to be found around the outside of site, this seems to be a major concern.
---
Midland Metropolitan Hospital
By Clare Lissaman, BBC West Midlands
Normally buzzing with workers and activity, the 16-acre site where a new hospital is being built in Smethwick, near Birmingham, is nearly deserted.
A Carillion worker, who did not want to be named, said there were normally some 500 sub-contractors on site, but today there were about 20 people in total.
"It's quiet here because most of the sub contractors have not come because they are worried about the job," they said.
The worker, who said he learned the firm had gone into liquidation from its Facebook page, added he will get paid for this week and next but after that did not know what would happen.
The man, and another worker who had been with Carillion for more than 10 years, hope the project will continue and keep them on.
---
Pressure is mounting on a number of other Carillion construction contracts.
In South Yorkshire, there is concern about the tram-train project between Rotherham and Sheffield, which was already over budget and behind schedule.
Labour MP Sarah Champion said: "We're already two years over time, we're already 400% over budget, and I just don't want the government to see this as an excuse - with Carillion going who are the main deliverer - to actually can it."
Some of Carillion's other contracts in England and Wales include:
A contract for widening the A14 in Cambridgeshire
Regeneration of a former brewery in Sunderland, which has ceased with immediate effect
Removing roundabouts on the A55 in North Wales
The Scottish government has sought to reassure drivers that a major roads project in Aberdeen will not necessarily be delayed by Carillion's demise.
Economy Secretary Keith Brown said Carillion's partners were committed to filling the shortfall in the Aberdeen Western Peripheral Route (AWPR) project.