Carillion's uncertain future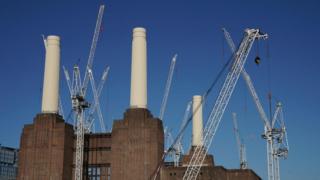 Being a big engineering contractor is a risky business.
To get the big contracts, you have to promise to deliver on time and on-budget and if you don't, you end up eating the cost of the overruns.
In the case of Carillion a hospital in Liverpool, a road in Aberdeen and a tramway in Sheffield turned sour.
When you have a lot of debt those risks get amplified and when you also recognise future revenue before you know how well the contract is going to go, your balance sheet can begin to look pretty weak, pretty quickly.
That's where Carillion finds itself. £1.5bn in debt, a pension fund £580m in the red, losing money and facing investigations about whether it misled markets about the real weakness of the company.
So how does it get out of this mess?
Shareholder blues
Tricky. The shareholders of the company should be kissing any value goodbye. Why the shares have any value at all (currently worth £75m in total) is hard to understand.
Its lenders are now in control and could force the company into administration at any time. They have already agreed to postpone a key test of the company's finances until April but are balking at putting any new cash into the company for fear of throwing good money after bad.
Normal procedure would be to give the company's creditors - the banks and the pension scheme mainly - shares in lieu of the debt they are owed and allow the company to carry on in the hope that its value will recover.
Next stop would normally be administration, when contracts and equipment would be sold off piecemeal to offset some of the losses incurred by the lenders and the short-changed pension fund.
The Pensions Regulator will be keen that the pension scheme gets its fair share of that fire sale to address the pension deficit before the 28,000-member scheme is lowered into the industry-wide pension lifeboat scheme.
But this is not a normal company. Its tentacles reach into the delivery of very sensitive services. School, hospital and prison maintenance alongside big infrastructure projects.
More from Simon Jack
Banks consider paying for EU access
UK plans to soften impact on European banks
If it does go into administration, and advisors at EY are reportedly standing by - claims the firm denies - it will create an enormous headache for the government. One so painful the government may be forced to temporarily nationalise parts of the business. I'm told that there are plans in hand to do just that with the contract to run the prisons.
The railway piece should be relatively straightforward. In situations where Carillion is, for example, one third of a consortium to supply services, its role will be assumed by the other two contractors and the staff involved will swap one hi-vis vest for another without too much disruption.
In situations where it is sole contractor, the work may be taken in house by Network Rail in much the same way that Transport for London did when the contractor Metronet went bust.
Existential threat
Where real pain may be felt could be among the army of subcontractors that provide supplies and services to Carillion and rely on them for payment. Many of these will be small and medium sized businesses for whom payment delays or failures could present an existential threat.
Falling into administration could also do serious damage to the whole idea of outsourcing critical services to private companies. Unions and the Labour party seized on the company's plight to question the wisdom of awarding sensitive contracts to debt laden and, until recently, dividend-paying private firms.
Full nationalisation of the company seems very unlikely but the government has stepped in before on a temporary basis to take on private contracts - when it nationalised the East Coast Main Line briefly (and profitably) between 2009 and 2015.
Is Carillion too big, too sensitive to fail? No.
Will the government bend over backwards to stop that? It depends how far it has to bend.