Sainsbury's boss says food price rise should ease this year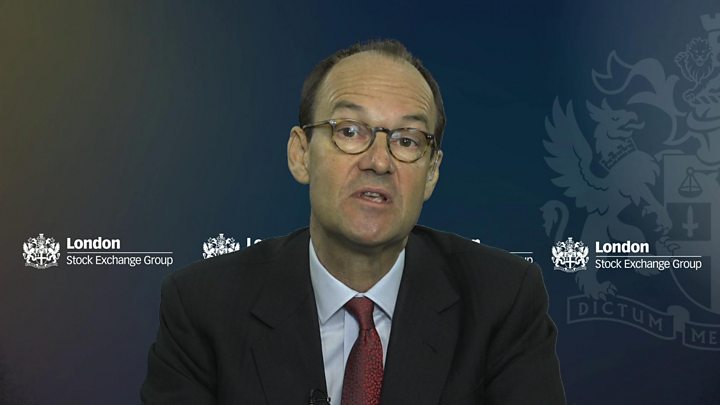 Shoppers should see the pace at which food prices are rising start to come down in the next six to nine months, the boss of Sainsbury's has predicted.
Mike Coupe said supermarkets were "over the hump" of inflation driven by the fall in the value of the pound.
He made the prediction as Sainsbury's reported rising food sales in the last three months, including over Christmas.
The UK's second largest supermarket chain said grocery sales rose 2.3%, helped by higher food prices.
Food prices have gone up, as the drop in the value of the pound after the Brexit vote made imports more expensive.
"We've done everything we can as a business to mitigate that but we can't get away from the fact that food prices are going up," Mr Coupe told the BBC.
But with that effect wearing off, food price inflation should "gradually reduce over the next six to nine months", he said.
Christmas shopping
Sainsbury's, which also owns Argos, sold 1.1% more in the last three months, as higher grocery sales made up for a 1.4% fall in general merchandise and slower clothing sales.
Argos's Fast Track delivery and collection grew strongly over the period, but that was not enough to stop a slide in Argos's sales.
"The general merchandise that Argos sells may be a millstone around the group's neck right now, but longer term the appeal of combining Christmas grocery and gift shopping in one location is clear to see," said Laith Khalaf, an analyst at Hargreaves Lansdown.
The supermarket said it had "record" sales over Christmas, as discounted turkeys and other trimmings brought in more shoppers.
Sainsbury's now expects pre-tax profits to be slightly higher than the previous estimate of £559m, helped by higher cost savings from its takeover of Argos.
The company also said it would save an extra £40m as part of a £500m cost-cutting drive that includes axing 2,000 jobs.