Just Eat criticised over service charge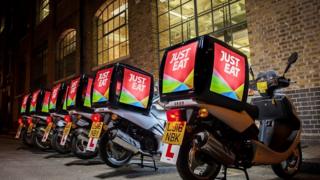 Takeaway food app Just Eat is being criticised after introducing a 50p service charge on all its orders.
Previously it levied a 50p surcharge on debit and credit card payments.
But from Saturday 13 January, all card surcharges will be banned when a new European directive comes into force.
Critics say the move by Just Eat flies in the face of the new legislation, which was designed to save consumers up to £473m a year in card charges.
"It's wrong for companies to rebrand credit card fees as service charges," said Hannah Maundrell, the editor in chief of Money.co.uk.
"The law was changed to stop businesses from profiting from unnecessary credit and debit card fees. So this makes a mockery of the law which is trying to protect us from getting ripped off."
In a statement, Just Eat said it had already been considering altering the way it charges its customers.
However, it admitted that "the change to legislation did play a part in prompting the review".
The change, which took effect on 8 January, has provoked criticism from the firm's customers on social media.
One said the charge was "awful", while others said they did not understand why it was being imposed.
But Just Eat said the new system would be fairer for its customers, as those paying by cash will also have to pay the charge.
"The 50p charge simply means that along with our restaurant partners, we can continue to deliver the best possible takeaway experience, and applying the charge equally across the customer base ensures fairness for all," a spokesperson said.
The consumer group Which? called on Trading Standards to investigate whether there is a loophole in the new legislation.
"These new rules should finally put an end to consumers paying excessive surcharges and additional fees just for using their cards," said Gareth Shaw, a Which? money expert.
"Trading Standards must now make sure this ban is enforced across the board, and that businesses can't find sneaky ways around it."
Ms Maundrell said that she expected some companies to increase their prices as a result of the new legislation, but this should be reflected in the cost of the goods themselves, to make comparisons easier.
"Being stung at the end of a transaction with a service charge isn't fair - businesses ought to be transparent about their pricing upfront."
Just Eat entered the list of Britain's biggest 100 companies - the FTSE 100 - last month.