GoPro considers sale as revenues plunge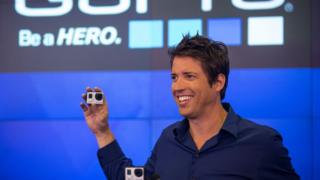 Camera-maker GoPro is reported to be considering a sale after suffering a steep decline in holiday sales.
"If there are opportunities for us to unite with a bigger parent company to scale GoPro even bigger, that is something that we would look at," GoPro boss Nicholas Woodman told CNBC.
GoPro earlier said revenue fell almost 40% in the fourth quarter to $340m compared to the same period in 2016.
GoPro also announced redundancies and said it would exit the drone business.
Shares plunged almost a quarter following the announcement, but started to rebound at the idea of a sale.
Reports have suggested that GoPro has hired JP Morgan Chase to explore a sale, but Mr Woodman has denied this.
The firm said it is committed to "turning around" the business.
GoPro reported losses in 2015 and 2016.
This year, weak sales during the critical holiday season forced it to slash prices of key products, including the HERO5 Black camera, in an effort to increase demand. The move cost about $80m, GoPro said.
The company is cutting more than 250 staff from its workforce, which numbered more than 1,250 at the end of September.
It said it will stop making aerial cameras, citing an "extremely competitive" market and hostile regulatory climate.
The salary of chief executive Nicholas Woodman has also been cut to just $1 in an effort to reduce expenses.
He hoped the actions would return the firm to profitability in the second half of 2018.
GoPro will release more detailed financial details in February.
Founded in 2004, the California-based firm is known for its small, portable video cameras.
Its shares surged after listing in New York in 2014 but have fallen more recently following increased competition from smartphones.
There have also been issues with some products, including the recall of its Karma aerial camera in 2016, after unexpected crashes.