Travellers being encouraged to fake illness, says ABTA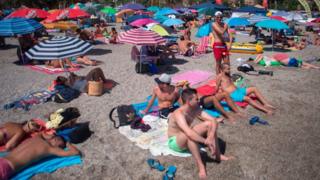 Millions of Britons are being encouraged to say they were sick while on holiday, according to the Association of British Travel Agents.
A poll carried out for ABTA suggests that 19% of all holidaymakers may have been approached by a claims management company on their return home.
They are told that there is money waiting for them if they file a claim.
On average, successful claimants get payouts of just over £2,000 each.
As many as nine million Britons have been approached to make such sickness claims, the poll suggests.
In 2016 the travel industry spent more than £240m fighting claims, making all holiday packages more expensive.
The government has already announced plans to discourage such activity, but ABTA said any new rules need to be in place before the 2018 holiday season.
The Ministry of Justice (MoJ) said it was trying to implement the changes as quickly as possible.
Since 2013 the industry has reported a 500% rise in reports of sickness while customers are away, even though the hotels involved say the number of cases has remained static.
The rise in claims also appears to be confined to holidaymakers who come from the UK.
Stricter controls
The poll suggests that few people know such claims can end with a prison sentence.
Under existing law, those who commit such fraud can face a sentence of up to three years.
In October last year, a couple from Merseyside were jailed after pretending to be sick on holiday.
And last week a Derbyshire couple pleaded guilty to fraud after claiming a trip to Turkey was ruined by diarrhoea and vomiting.
"Unscrupulous claims management companies are encouraging people to make a false sickness claim which could land them with a large fine or even a prison sentence," said Mark Tanzer, ABTA's chief executive.
The government announced a crackdown on false claims last July, and has since carried out a consultation.
The Ministry of Justice (MoJ) is planning to introduce fixed legal costs for firms defending themselves, making the costs of claims more predictable.
The payouts themselves will also be subject to stricter controls.
"We are determined to tackle the holiday sickness claims culture which is damaging the honest majority," an MoJ spokesperson said.
"That is why we have set out plans to bring costs under control in these cases, reducing the cash incentives to bring claims against tour operators. We are aiming to bring these changes in as quickly as possible."
It has been said that claims management companies are looking for new areas of business, following a decline in the number of PPI claims being filed.