Mothercare issues profit warning as Christmas sales sink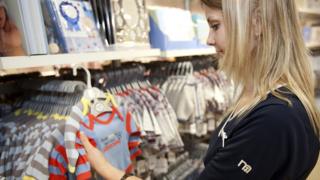 Shares in baby goods retailer Mothercare have fallen by more than a quarter after it warned of substantially lower annual profits.
The firm saw a big fall in sales over the crucial Christmas trading period. Like-for-like sales fell 7.2% year-on-year, while online sales fell 6.9%.
The retailer said it had reduced its total number of stores and discounted heavily in its end-of-season sale.
It said adjusted group profit was now likely to be between £1m and £5m.
Analysts had previously forecast that profits would be about £10m.
Chief executive Mark Newton-Jones said there had been a "softening" in the UK market, with fewer people visiting its stores and lower website traffic.
"In our UK business, we took a conscious decision to remain at full price to protect our brand positioning prior to Christmas, but to then discount more heavily in the end of season sale," he said.
"We have subsequently seen good progress with strong sell-through rates on autumn/winter clearance lines, albeit these carry lower margins and will lead to a further reduction in full-year margin as a result."
Mothercare said it had reduced its total UK retail space to 1.4m sq ft in its store closure programme and that total sales were lower as a result. It now has 143 stores in the UK, of which four are Early Learning Centres.
The retailer said online sales now represented about 42% of its total UK sales.
Like-for-like sales are those from stores that have been open at least a year.
'Challenging' performance
Mothercare said international sales were down 3% year-on-year when the impact of currency movements were stripped out and 6.8% lower in actual currency.
However, key markets were showing "signs of improvement", with a return to moderate growth in the Middle East and Russia.
"Whilst the performance of the business has been challenging in the last few months, we remain singularly focused on transforming Mothercare to be the leading global retailer for parents and young children," Mr Newton-Jones said.
Neil Wilson, senior market analyst at ETX Capital, said: "We should look to management's decision not to discount in the peak trading season as a significant contributing factor.
"Admirable, perhaps, but with competitors slashing prices ahead of Christmas amid (justified) fears of a slowdown in consumer spending, it looks as if the 'conscious decision' to remain at full price prior to Christmas but to then discount more heavily in the end of season sale was a mistake.
"Clearly Mothercare et al are up against it and the update does not bode especially well for the retail sector ahead of an important week of releases."
Other major retailers have already indicated that they are feeling the strain. Last week, department store chain Debenhams issued a profit warning after reporting disappointing Christmas trading.
It subsequently emerged that rival chain House of Fraser was seeking to reduce rents on some of its stores, suggesting that it too was struggling.
However, sales at Next unexpectedly rose over the Christmas period, prompting the fashion retailer to raise its profit forecast.
At the same time, data from credit card firm Visa has indicated that annual consumer spending fell by 0.3% year-on-year during 2017, marking the first annual decline since 2012.