'Indefensible' deal over East Coast rail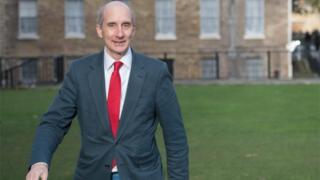 "Indefensible" is how Lord Adonis, the former Labour Transport Secretary, has branded the government's deal with Stagecoach and Virgin Group over the East Coast rail franchise.
Describing the deal as a "bail-out", he said it was one of the reasons why he resigned as chair of the National Infrastructure Commission.
On his way out he fired a few choice shots at the government - shots that seem to be hitting their mark.
Why is he so angry?
He's accused the Transport Secretary, Chris Grayling, of bailing out the private consortium running the train line between London and Edinburgh.
That decision, he says, could cost the taxpayer hundreds of millions, if not billions, of pounds in lost premiums.
In 2014, Virgin and Stagecoach signed a deal to run the East Coast line until 2023. They were due to pay the government - and therefore the taxpayer - £3.3bn in premiums.
But that contract has been ripped up three years early because Virgin/Stagecoach are losing money. A new public-private company will run the franchise instead.
A Department for Transport spokesperson said: "Profits continue to flow to the taxpayer and any suggestion to the contrary is completely wrong.
"Stagecoach has also - on average - paid 20% more back to the taxpayer than when the line was operated by Directly Operated Rail and we continue to receive hundreds of millions of pounds."
Counting the cost
It is inevitable that the new deal will cost the taxpayer money, we just don't know how much yet.
Virgin/Stagecoach were meant to pay around £1.6bn to the government in the final years of the contract. It will be a while before we know how much the new company will pay instead, but bearing in mind that Virgin/Stagecoach were losing cash, it is bound to be less.
Lord Adonis says other struggling rail firms might ask for similar help.
He writes in his letter: "The bailout will cost taxpayers hundreds of millions of pounds, possibly billions, if other loss-making rail companies demand equal treatment.
"It benefits only the billionaire owners of these companies and their shareholders, while pushing rail fares still higher and threatening national infrastructure investment."
So why can't Virgin/Stagecoach make money?
They overbid for the contract. Promising huge amounts of money based on a certain amount of passenger growth. But that growth's not going to happen.
It's not all their fault though. When they bid for the franchise, they were promised major track and power upgrades that would let them run new trains and services from 2019.
The government-owned Network Rail has not been able to deliver those upgrades, which means the line will not be able to accommodate all those extra passengers with all their extra fare money.
It is still not clear when those infrastructure improvements will be finished. I don't think anyone knows for sure yet.
East Coast - the problem franchise
The East Coast franchise is the political front line on the railways. In 2009, another private company, National Express, also failed to make any money.
Back then the government took it back into public hands, after which it made a profit.
The Transport Secretary who did the deal? A certain Andrew Adonis. Here's his take on it: "I set up a successful public operator to take over East Coast services and banned National Express from bidding for new contracts. The same should have been done in this case. Yet, astonishingly, Stagecoach has not only been bailed out: it remains on the shortlist for the next three rail franchises."
I call it the front line because Labour cites it as proof that nationalised lines work better than private lines.
The Conservatives were desperate to re-privatise it again, pushing it to the front of the franchising queue. It perfectly illustrates the political divide over the future of our railways.
The government's response
Tony Livesey on Radio 5 live interviewed Chris Grayling on Tuesday, 3 January.
Mr Grayling said Lord Adonis had "got his facts completely wrong".
"He doesn't have access to the full information of what's going on. There has been no bail out. There is going to be no bail out. They have a problem with their contract... we've put in place new arrangements."
When Tony asked him the other key question: "Will taxpayers lose out?", he said: "The taxpayer will continue to receive a very substantial amount of money."
So he's left the door open for a new company to pay less than Virgin/Stagecoach would have paid in those final three years.
What next?
Now we have to wait for details of the new contract to come out. Companies will have to bid for it. Virgin and Stagecoach may not even apply.
We'll have to see.
Meanwhile Lord Adonis says he is "ready to share troubling evidence with the Public Accounts Committee and other Parliamentary committees investigating the bailout".
We've yet to hear what that "troubling evidence" is.