Christmas sales surprise for Next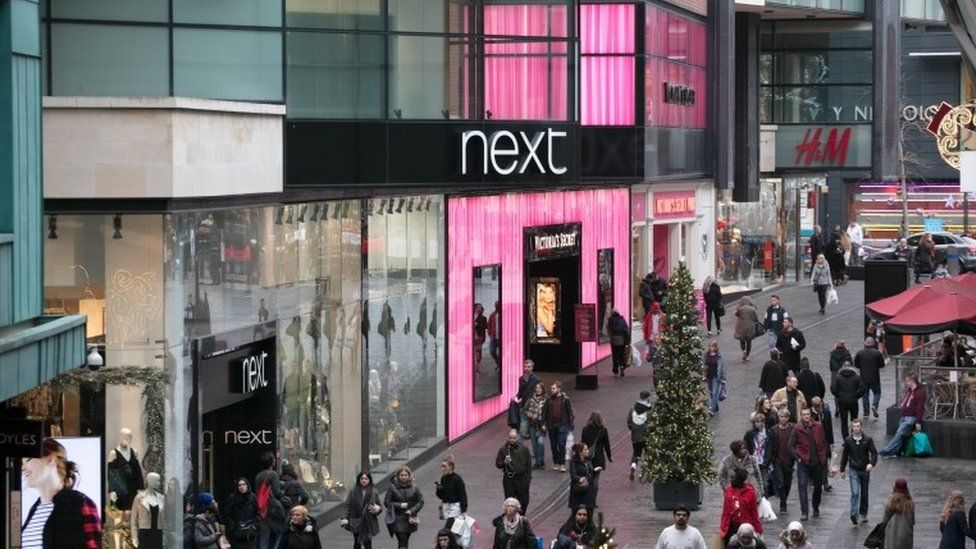 Sales at Next have unexpectedly risen over the Christmas period, prompting the fashion retailer to raise its profit forecast.
Cold weather boosted trade ahead of Christmas, sending full-price sales up 1.5% - far better than the 0.3% fall it had expected.
A 13.6% rise in online sales offset a 6.1% decline in store sales in the 54 days to 24 December.
As a result Next said annual profits were expected to rise by £8m to £725m.
That remained considerably lower than the £790.2 million for the year to January 2017.
The retailer warned that many of the challenges it faced last year, such as subdued consumer demand and lower spending on clothing, would persist in 2018.
However, chief executive Lord Wolfson said the retailer was now much more optimistic about its prospects compared with this time last year when it issued a profit warning.
He also argued that declining in-store sales did not mean the death of the high street.
"Retail will remain challenging and the shift from retail to online will continue, but half of our online orders are delivered to a store, so this is not the end of the high street as some people have said," Lord Wolfson said.
Analysis by Business Editor, Simon Jack
You don't have to be a Next shareholder to find something to cheer about in the retailer's sales update.
Perhaps the most interesting thing for a wider audience was the chief executive's comments on inflation.
Lord Wolfson said that inflation in clothing prices would fall to 2% in the first half of this year and disappear completely in the second.
Back in March 2017, the retailer warned it might have to put prices up by 5% because the sharp fall in the pound after the EU referendum raised the price of imported goods.
Next subsequently revised that figure down and today's comments are the clearest indication yet that the inflationary impact of that fall are working their way out of the system.
That is good news for everyone - whether or not you shop at Next.
Independent retail analyst Nick Bubb said the sales split between online and stores was "again stark", with sales at Next stores down 7.2% for the entire year, while online rose by 10.4%.
Retail consultant Mary Portas told BBC Radio 4's Today programme that Next's heavy investment in its online operation had paid off.
"Online is going to be about 30% of our sales in the next five years and the big retailers who have invested in that during the past few years are starting to see the results, but it doesn't bode well for the high street," she said.
Richard Lim of Retail Economics said the fashion clothing market was becoming more competitive because of more nimble online players such as Asos and Boohoo, a prolonged period of sales kicked off by Black Friday and an increase in operating costs.
Next was the first retailer to report the results of its Christmas trading, with a host of others following throughout January, including Morrisons, Sainsbury's, Ted Baker, Tesco, Marks and Spencer, John Lewis and Debenhams next week.