Online returns set to soar on 'Takeback Tuesday'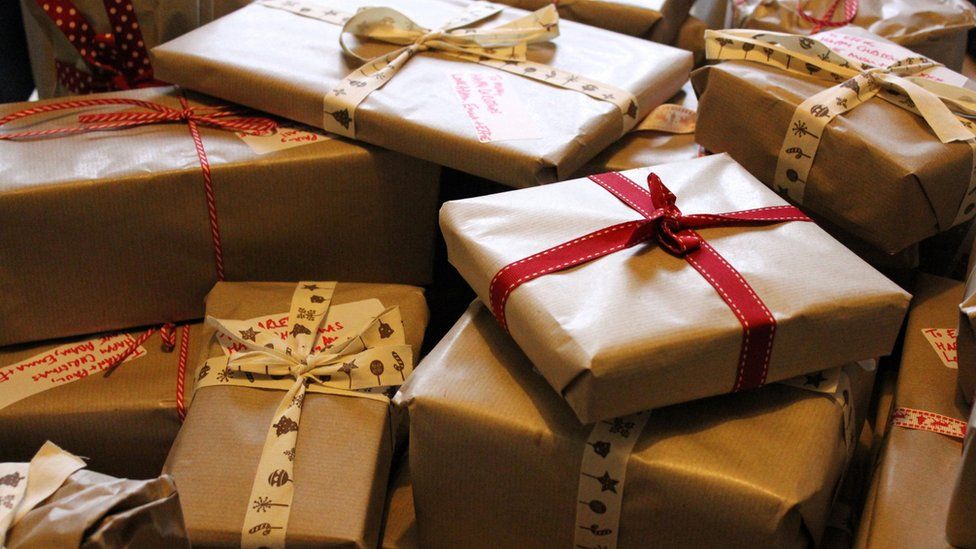 A deluge of unwanted online gifts and purchases is expected to be returned to retailers on Tuesday, according to Royal Mail.
The proportion of goods returned is set to be much higher than last year as online shopping becomes more popular.
Clothing, footwear and electrical goods are the most commonly returned items.
Royal Mail has dubbed it "Takeback Tuesday", as people go back to work and take unwanted packages into a Post Office for return to the retailer.
Returns of online packages are forecast to be double the December daily average.
Meanwhile, the Post Office said it was expecting today to be the busiest of the year for online shopping returns.
Logistics Consultancy LCP has estimated that £17bn worth of goods was bought online in the Christmas shopping period, from Black Friday until Boxing Day.
Since about 15%-20% of goods bought online are normally returned, that means about £2.5bn worth of goods would be sent back to the retailer, said LCP's director of retail Stuart Higgins.
Clothing and footwear were the most commonly returned items because shoppers were buying goods based on a website description and could not test the cut or fit of the item, he added.
As a result, they tend to buy two or three different sizes and return the ones they do not want.
Swimwear tended to have a return rate of between 60% and 70%, which suggests people were buying three and returning two, Mr Higgins said.
All online retailers must have a returns policy. "The challenge for the retailer is how to do that as cost effectively as possible."
It already costs retailers about £2 to £3 more to supply an online order than it does to supply a store.
That is because in-store orders are sent out in full case loads and in full vehicle loads, minimising the cost.
In contrast, online orders are picked in single units by warehouse workers and then packaged and labelled. They are then usually given to a third party home deliverer to take them to customers.
If an online item is subsequently returned, extra costs are incurred. For example, all electrical items have to be tested to make sure they are safe, while clothes packaging may have been damaged and the garments creased.
An online retailer's returns policy is increasingly being used as a competitive tool, with free returns and ease of return increasingly expected by customers.
Royal Mail research suggests 47% of shoppers would be unlikely to shop with a retailer again if they were charged for returns.
At this time of year, clothing which was sold at full price in December but was returned might have to go straight into a sale, meaning a loss of profit for the retailer.
"The price retailers have to pay for online growth is pretty substantial," said Mr Higgins.
"Not only will this flood of returns put additional demands on retailers back-end operations during their busiest online sales week of the year, it will also impact their stores as a third of returns will come back into stores just as they're launching their Christmas and January sales."
You are entitled to a refund within 30 days of the sale if goods are faulty and bought from a UK-based retailer
Shops are not forced to exchange goods if you have simply changed your mind, unless you bought them online in which case you have the right to return them within 14 days
In most cases, goods bought online have extra protection, under the Distance Selling Regulations
If a retailer refuses to comply, you can take them to a small claims court, or there are some alternative dispute resolution providers - such as the energy ombudsman - which are likely to prove much cheaper