ESPN president John Skipper resigns citing substance addiction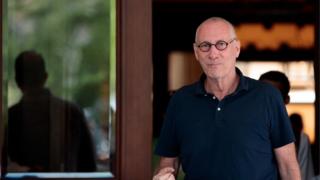 ESPN president John Skipper has announced his resignation, citing a problem with substance addiction.
Former ESPN president George Bodenheimer, who worked for the sports media company for more than 30 years, will step in as interim president.
The changes are effective immediately.
Mr Skipper said in a statement: "I come to this public disclosure with embarrassment, trepidation and a feeling of having let others I care about down."
"I have struggled for many years with a substance addiction. I have decided that the most important thing I can do right now is to take care of my problem."
Mr Skipper had led ESPN since 2012 and recently signed an extension to his contract to the end of 2021. He had worked at ESPN since 1997.
The company, owned by Disney, has been facing challenges as the number of people in the US with pay-TV subscriptions has fallen. It has undergone several rounds of layoffs in recent years.
Mr Skipper's departure comes a few says after Disney struck a deal to buy film, television and international businesses from Rupert Murdoch's Twenty-First Century Fox for $52.4bn.
Disney chief executive Bob Iger, who has extended his stay at the company until the end of 2021 to oversee integration of Fox's businesses, offered Mr Skipper well wishes.
"I respect his candor and support his decision to focus on his health and his family," he said in a statement.
Staff support
ESPN is key to Disney's plan to offer its own online streaming services, in an effort to fend off competitors such as Netflix. A new ESPN Plus streaming service is set to launch in 2018.
Mr Iger and Mr Bodenheimer said they will work to ensure a smooth transition.
"I've stayed in close contact with John, and I believe in the direction he's taking ESPN," Mr Bodenheimer said in a statement.
Mr Skipper started at ESPN as general manager of its magazine.
He has led ESPN to a series of long-term, multi-platform agreements with major sports rights holders, including the National Basketball Association and the Major League Baseball.
In Twitter posts, ESPN staff expressed shock at the news.
Jemele Hill, a co-host of one of ESPN's flagship programmes, called Mr Skipper "one of the finest people I've ever worked for".
"He's been incredibly supportive throughout my career at ESPN. This isn't company-speak. I seriously cannot express how much respect I have for him," wrote Ms Hill.
She was suspended by ESPN earlier this year after a controversy over comments she made about US President Donald Trump, whom she called a "white supremacist".