How Toni Mascolo gave hairdressing a makeover
By Jamie Robertson, George Mann & Joice Etutu
Business reporters, BBC News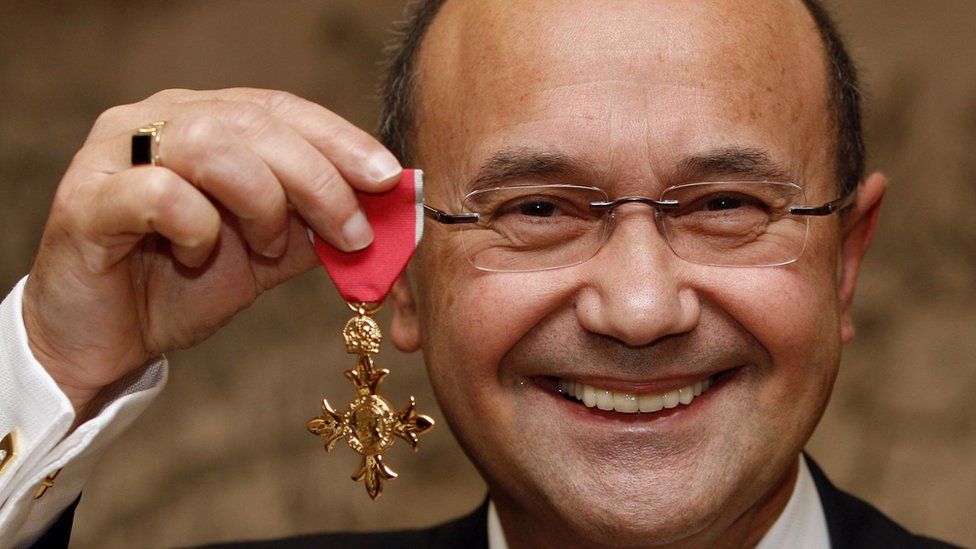 Toni Mascolo, who has died aged 75, and his brother Guy revolutionised hairdressing in London at the end of the last century.
The son of an immigrant hairdresser, Toni had initial dreams of becoming a lawyer, but hard times forced him into his father's business.
Over 50 years, he was the family's business brain that turned Toni & Guy into an international franchise brand.
They expanded into hair care, training and education, photography and fashion.
Toni, born Guiseppe Toni Mascolo, and Gaetano, or Guy, opened their first south London salon in Clapham, dropping leaflets round the area to advertise their "Italian style".
But it took 10 years for them to get the capital to move into central London.
It was a period when the traditional barbers were finding it hard to cope with the lengthening curls of their male clients, while women were demanding ever more elaborate styles, from bobs to bouffants to beehives.
During the 1970s, Guy and Toni expanded outside the traditional hairdressing arena, bringing in their younger siblings, Anthony and Bruno, and eventually many of their children.
Then in 1988, the first Toni & Guy franchise opened in Brighton. Within 12 years, the number would swell to 112, with 27 salons abroad. Since then the numbers have quadrupled.
'So many jobs for so many people'
Ashley Miah started work as Toni Mascolo's assistant 15 years ago. He's gone from washing hair to being the manager of one of the company's biggest salons.
Although the company is a franchise, Toni retained direct ownership of some salons and he returned and worked with Ashley one day a fortnight.
Ashley went to the Toni and Guy Academy for two years to get an NVQ, then did the company scholarship to become stylist.
"So many people owe their careers to Toni, what he and Guy did with the academy has been so influential in training people and raising standards," he says.
"I learnt a lot from him, he was so passionate, he had a really nice energy that brought people together.
"His influence is there right across the industry, he created so many jobs for so many people."
Richard Ward, Royal and celebrity hairdresser, said: "The main thing is that Toni pioneered the concept of the chain. There had been chains before but not on this scale. Even Vidal Sassoon didn't have them at this level.
"Back in the day you would have people coming up to London to get their hair done, but by franchising and taking a very high standard out into the counties and the country, it meant that they could find what they wanted on their own High Street.
"And it changed the life of all hairdressers. It raised the bar for all of us."
To get the degree of professionalism across the expanding franchise, Toni started an academy in the West End of London in 1984.
In his autobiography, Toni: My Story, he wrote: "I was looking at a building in St Christopher's Place and as soon as I went inside I knew it would be absolutely perfect for our school. It was ideal.
"I said to myself, 'God has been good to me.' Straight away I decided I would take it."
'I aspire to his achievements as a businessman'
Thirty-five-year-old Shadi Mirkham owns a hairdresser's opposite a Toni & Guy branch in central London.
He owns this salon and another one in Kuwait. He wants to emulate what Toni and his brother achieved in business.
"They showed the way to be a success, like me they came to London because it's a big city and they knew they could achieve a lot here.," he says.
"I aspire to achieve what they did as a business. Not only are there the salons, they have their Label M salon hair products and their High Street Toni & Guy product brands which are very successful."
He said he had a good relationship with the business. "If we are busy, we often send people there and they do the same.
"We are both good at our own things. For example, we do a lot of work with beards, they are very good at other beauty treatments."
Toni was also quick to jump on the fashion for new styling products, launching his TIGI brand in 1979 with branded gel, scissors and rollers.
Later his brother Anthony used TIGI to develop a business as a photographer, as well as tailoring hairdressing styles specifically for photographic shoots.
At the same time, the Mascolo family was expanding into America where they had already launched training videos.
Toni wrote of his experience there in his book: "They said we were the Beatles of hairdressing and they screamed and cheered so much, I think they meant it too."
Richard Ward said: "He was also a very affable guy, very friendly, and you couldn't help but like him. To have achieved what he did from such a humble beginnings is remarkable."
In the 2017 Times Rich List, Toni and his family were estimated to have a net worth of £270m ($360m).
Ellie Rose is a 20-year-old hair stylist from Croydon, south London.
She says the Toni & Guy brand is very successful, as you will see in almost every High Street near her.
"I think his death marks the end of an era, he's gone but the style will remain," she says.
"With the franchise business, they've become more of a hair and beauty brand now, which I think over-complicates them as a salon, but people will still go there and want to work there because of the name."
Toni received an Italian Knighthood, the Cavaliere Ufficiale, in 2006 and two years later an honorary OBE for his services to British hairdressing.
In 2002, the business split with Guy, Bruno and Anthony taking on the US business, while Toni, and two of his children, Sacha and Christian took on Toni & Guy Global.
Guy Mascolo died in 2009.
Asked by the Guardian in 2008 if he had ever set a trend, such as Victoria Beckham's famed bob, Toni replied: "Well, I would honestly say we invented all of the trends. We've done more books, more DVDs, more techniques than anyone else."