Military wives 'missing out' on up to £30,000 of pension
By Brian Milligan
Personal Finance reporter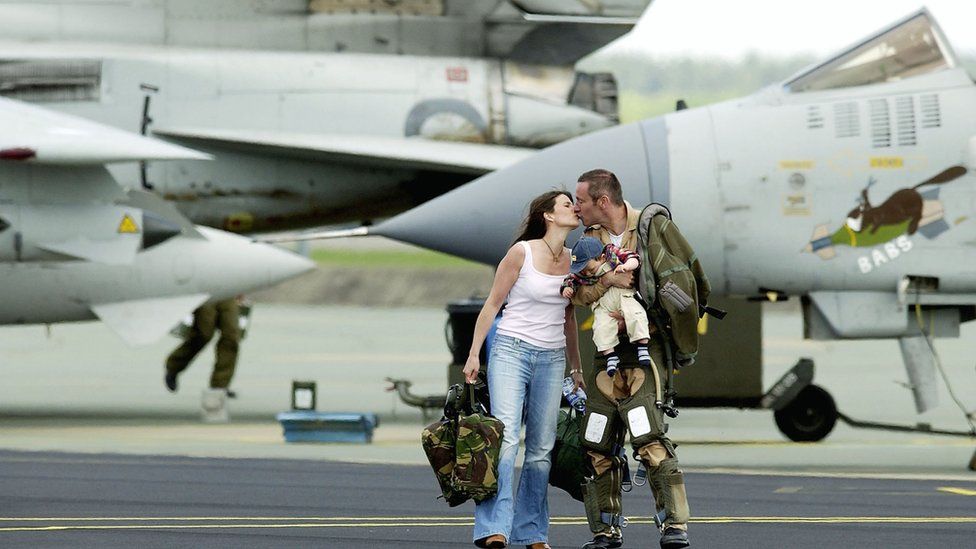 Wives or partners of those who have served abroad in the armed forces may be missing out on pension payments worth thousands of pounds.
Last year the government launched a scheme to offer National Insurance Credits to 20,000 military spouses.
But following a Freedom of Information Request, insurance firm Royal London discovered that fewer than 4,000 people have applied for it so far.
The payments could be worth up to £30,000 over the course of retirement.
However the government disputed the figures, saying that it expected most people to apply in the years ahead.
But Steve Webb, director of policy at Royal London, insisted that not enough people are getting what they deserve.
"This is a very good scheme to recognise the service of military wives over the years, but the take-up so far has been very poor," he said.
"Women should not be suffering in retirement for their loyal service alongside their husbands overseas."
However spouses are not granted the National Insurance Credits (NICs) automatically. They have to apply.
Mr Webb said the government should actively identify those eligible, and make sure they get the credits they are entitled to.
But the government said the fact that less than 4,000 spouses had applied for the credits so far did not mean the scheme was a failure.
It also disputed the sums of money involved.
"These monetary figures are misleading, and based on flawed assumptions," said a spokesperson for the Department of Work and Pensions.
"Additionally our 20,000 estimate covers the period up to 2066, so 4,000 applicants in the first 18 months isn't indicative of a low take up at all."
NICs are given to people to make up gaps in their employment record, when they are unable to work.
Women taking time off to have children are typical beneficiaries.
Such credits are important, as only those who have 35 years of NI payments qualify for the full State Pension of £160 a week.
The NIC scheme for military personnel allows:
claims from widows and divorcees
claims from spouses born since April 1953