Two Singapore 'Airbnb hosts' charged for illegal home stays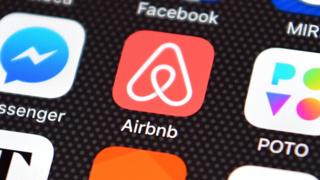 Two men have been charged in Singapore for illegally renting out their homes for short-term stays via Airbnb, according to local media.
It is the first known case of its kind since new laws against home sharing came into effect in June.
Under the changes, it is illegal to rent out, sublet or share a residential property for less than three months.
Property agents, Terence Tan En Wei and Tao Songliang, are expected to plead guilty, the Straits Times reported.
Reports say the accused worked together to rent out four apartments for short-term stays without permission from local authorities.
If convicted, the two men could face fines up to $200,000 Singapore dollars ($149,000; £110,000).
Singapore's Urban Redevelopment Authority (URA) earlier this year lowered the minimum rental period for private homes from six to three months.
While home owners can seek the URA's approval for shorter term stays, the regulations effectively render most Airbnb rentals illegal.
Airbnb would not comment on the case but said it remained committed to "working alongside the government to find a way forward for home sharing".
The firm lists more than 8,000 Singaporeproperties on its home sharing platform, which have hosted more than 330,000 travellers over the past year.
It added that the current framework stands "in contrast with Singapore's commitment to innovation" and "does not reflect how Singaporeans travel or use their homes today".