How Dragons' Den's Tej Lalvani made his millions
By Daniel Thomas
Business reporter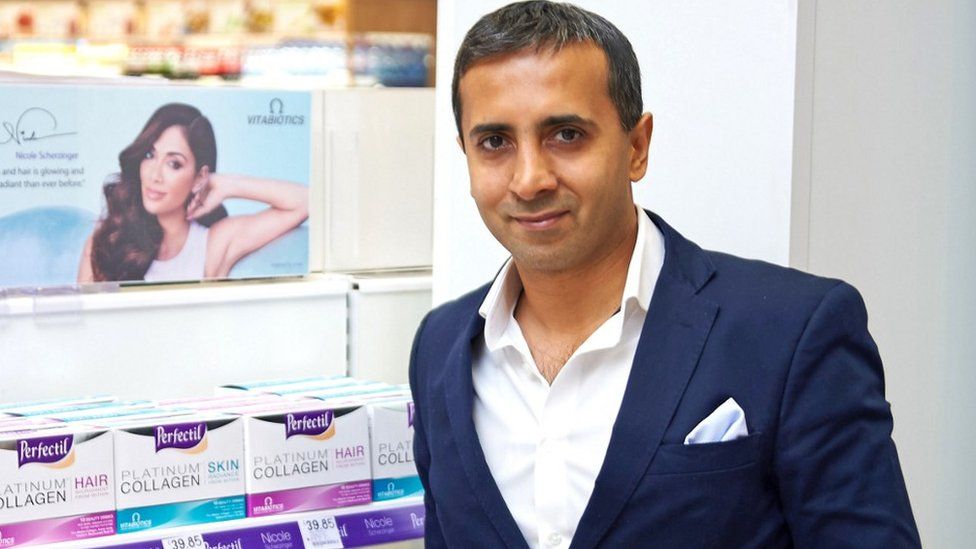 As one of the newest dragons to join reality TV show Dragons' Den, Tej Lalvani has gained a reputation for being less of a fire-breather than his peers.
But the entrepreneur is no pushover, having helped turn his family vitamins business into a £300m enterprise over the last decade.
The Indian-born businessman joined Vitabiotics as soon as he left university 20 years ago. He became its chief operating officer in 2008 and boss in 2015.
But he bristles at the suggestion it was handed to him on a plate.
"I started at the bottom, sticking product labels on boxes in the warehouse," he says.
"My dad was actually harder on me than he was on most people in the business because he expected a lot more. The last thing I got was special treatment."
Tej's pharmacist father, Kartar, founded Vitabiotics in 1971 and built it up into one of the UK's best known vitamins and supplements firms.
Today it sells popular brands such as Wellman, Perfectil and Pregnacare in more than 100 countries.
It also remains fiercely independent at a time when many of its rivals such as Seven Seas, Centrum and Berocca are owned by giant pharmaceutical companies.
"We don't have any outside investors, business loans or overdrafts," Mr Lalvani says proudly. "We would rather use our own money and not be answerable to anybody else."
Tej, who now lives in London, always knew he wanted to join the family business but his route there wasn't trouble-free.
When he was eight, his mother Malathi, a former Miss India, and father got divorced, ushering a period of turbulence into his life.
"One parent was in the UK, one was in India, so until I was 16 I lived between the two countries.
"It was quite unsettling in terms of having to make new friends and getting used to the cultural differences. I literally went to eight different schools during that time.
However, he says he adjusted and hasn't harboured regrets.
"I think it made me tougher."
After he joined Vitabiotics he went on to work in "every department" in the company, learning "every aspect of the business".
He now runs the firm with his father, who is chairman, and brother, who sits on the board. However, he confesses being part of a family business isn't always easy.
"You do have your family arguments but I think the positives outweigh the negatives," he says.
"What is good is the speed at which things can get done. As a family you also think more long term than if you're public and have shareholders to answer to."
As chief executive he is very hands on, he says, personally reading every customer email in search of ideas to help the firm improve.
He also oversees all of the company's marketing; helping to design the packaging and come up with adverts, including the firm's Wellman campaign featuring model David Gandy.
But not all of the company's marketing has gone down well. Like other big vitamins firms, Vitabiotics has faced scrutiny over claims it has made in its ads and the Advertising Standards Authority (ASA) has made seven formal rulings against it since 2012.
Mr Lalvani says the case was "complex" and that the regulator's actions have always been about "technicalities, never anything serious".
"Given the profile and amount of advertising we do, ASA complaints against us are very infrequent indeed and we have not had any issue upheld for several years.
"We always strive to act responsibly and in line with the latest guidance," he says.
From 2012-2016, sales in Vitabiotics' UK operations grew from £76m to £120m and it now employs around 100 staff at its London headquarters.
More The Boss features, which every week profile a different business leader from around the world:
But the firm could face challenges in its biggest market - the UK, says Alyson Parkes, a food and drink analyst at research firm Mintel.
"The importance of health and wellness has benefited the market in recent years, however this more proactive approach to health has seen some consumers turning their attention towards exercise and diet, lessening the demand for vitamins, minerals and supplements."
Mintel forecasts that the overall market will decline by 0.7% this year before returning to growth - although competition will remain fierce.
"We're seeing a lot of competitive pricing on brands, promotional offers and rising interest in retailers' own-label vitamins, minerals and supplements."
Mr Lalvani says Vitabiotics has not been too affected by the recent slowdown and UK sales continue to rise. He has also been putting a lot of energy into international expansion.
The company already sells in parts of Asia, the Middle East and Europe and now has its sights on the US and China, which he thinks offer huge opportunities.
"I want to turn Vitabiotics into the number one specialist vitamins and supplements business in the world," he says.
His ambitious plans are likely to add to an already busy schedule.
Tej typically wakes up at 7am and doesn't get home until at least 9pm - and when he's filming Dragons' Den for the BBC, he's even busier.
However, he says he's determined to strike a good work life balance.
"I didn't get to spend too much time with Mum and Dad when I was growing up - I was always travelling back and forth.
"But I have chosen to do things slightly differently with my wife and kids. If you don't spend that time with them, they will have to get the attention somewhere else. So I want to be there for them, to give them advice and support they need."