Cineworld shares dive on £2.7bn cinema deal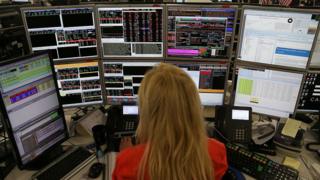 Shares in Cineworld closed 19.8% lower after it confirmed it is in advanced talks to buy US cinema chain Regal.
Europe's second-biggest cinema group said it would fund the deal with debt and a rights issue.
Cineworld shares were the biggest losers on the FTSE 250, although the mid-cap index overall closed up 0.17% or 33 points at 20,059.58.
The benchmark FTSE 100 closed 0.9% or 67 points lower at 7,393.56.
Shares in London were hurt by the rising value of the pound, which for companies that report their results in pounds, reduces the value of sales made overseas.
Earlier in the day London Stock Exchange Group was among the biggest losers on the FTSE 100 after its chief executive left.
The company said Xavier Rolet had "agreed to step down with immediate effect" at the board's request.
However, shares in the the company ended the day higher - up 0.13%
The pound rose above $1.34 for the first time in two months, adding to Tuesday's gains.
Against the dollar it has gained 0.63% to trade at $1.3424 and was 0.58% higher against the euro at €1.1330.
"The pound was in party mode following reports that the UK could bow to EU pressure and cough up £50bn for the divorce bill, a move that would potentially unlock trade negotiations before the end of the year," said Connor Campbell, financial analyst, with SpreadEx.