How the grilled cheese sandwich went gourmet
By David Silverberg
Business reporter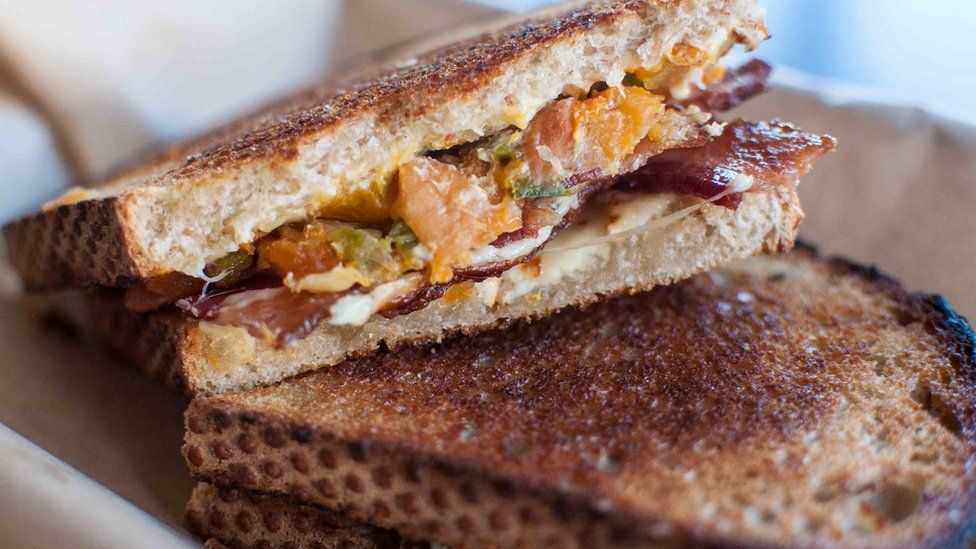 For some people cheese can seem as addictive as chocolate, especially when it's melted.
To meet these cravings for all things cheddar, brie and parmesan, a slew of restaurants have popped up recently that focus specifically on selling cheese-based dishes.
But is it wise to run a company that relies so heavily on one type of food? And isn't all this cheese-eating bad for our health?
When Nate Pollak decided to set up a business specialising in "gourmet" grilled cheese sandwiches, some people thought he was crazy.
The 34-year launched the Great American Grilled Cheese Kitchen with his partner, Heidi, at the height of the US recession in 2010.
Both had lost their office jobs and, in what many would consider a risky move, chose to put their life savings into the venture.
But seven years on the decision is paying off.
The pair have opened two outlets in San Francisco, and sales are increasing 7% every year at their flagship outlet, and 35% at the newer site.
They serve around 16 varieties of grilled cheese sandwich, ranging from the classic recipe to ones with fancy cheeses and experimental fillings, such as hickory-smoked turkey, apricot-jalapeno relish and lavender-basil pesto.
Mr Pollak now plans to franchise his brand across the US. But isn't he worried that his somewhat limited product range might one day go out of fashion?
"The grilled cheese sandwich is timeless comfort food," he says confidently. "It elicits memories of your childhood, and all that cheese is so deliciously gooey.
"I can still remember making my first when I was three, using the toaster oven in my house."
The Grilled Cheese Kitchen is one of growing crop of businesses to have emerged in recent years, catering for our love for all things melted cheese.
While the best known specialise in toasted sandwiches, others offer macaroni and cheese, Canadian poutine, or fondue, with all tending to put their own spin on these classic dishes.
It's all part of the "fast casual" dining trend that has swept the world in recent years, says Josh Benn, global head of food and retail at Duff & Phelps, a corporate-finance consultancy,
This sees fast food dishes being made with higher quality ingredients and served in trendier venues targeting millennial consumers, he says.
"Most types of fast food have been given a fast casual touch and we've seen billion dollar brands spring up, such as Shake Shack for burgers and Chipotle for burritos," says Mr Benn.
"Now we're seeing businesses focused on grilled cheese dishes expanding, and it's become a fashionable food trend in the US and beyond."
A British firm embracing the trend is the Mac Factory, which specialises in macaroni and cheese, or "mac n cheese", the classic baked dish of cooked macaroni pasta in a cheese sauce.
The London-based chain serves its own fresh takes on dish, adding chorizo sausage or caramelised onions for example.
Since it launched in 2014 the business has opened three outlets to meet demand, says owner Graham Bradbury.
"Cheese is coming back into fashion. Everything is melted-cheese this or melted-cheese that. Lots of companies are starting up and it does feel quite competitive."
More stories from the BBC's Business Brain series looking at interesting business topics from around the world:
Some of the cheese dishes in the spotlight have roots that go way back - and perhaps worryingly for those serving them, they have tended to go in and out of fashion over the years.
Take the Swiss dish fondue, a shared pot of melted cheese into which groups of diners dip vegetables, charcuterie and bread. It is thought to have first been made in 1699, and saw spells of popularity in the 20th century, including in the US in the 1960s where it was enjoyed at parties.
But it fell out of favour in the 1980s when it was deemed passé and health-conscious consumers began to shun calorific dishes.
Recently though retailers have been offering cook-at-home fondue sets, newspapers have been publishing recipes, and more restaurants are offering the gooey dish.
London's St Moritz, which has served fondue since 1974, claims to sell up to 20,000 servings of fondue every year.
Boss Armin Loetscherm doesn't seem concerned that it might fall out of fashion again.
"I think it will always have fans because of its communal aspect, as people are sharing and interacting with each other all the time."
It's a similar story with poutine, a French-Canadian dish invented in 1957, traditionally comprising French fries and fresh cheese curds, covered with gravy.
It was typically only found in Canada, where it is a national dish, but today restaurants from New York to London, and Paris to Melbourne serve it as well.
"The fact that cheese is culturally part of the Western and European diet doesn't make it a healthy food," says Dr Neal Barnard, author of The Cheese Trap, a book highly critical of the food stuff.
"It's a leading source of saturated fats, and is associated with a higher risk of getting heart disease and even Alzheimer's."
He also points out that cheese can be addictive, thanks to its high concentration of casein, a protein that can ignite your brain's opioid receptors.
"And when it's melted, cheese has a smell that can be even more tempting," says Dr Barnard.
Mr Benn believes we could see a backlash against cheese dishes as younger people once again embrace healthier diets and clean eating.
More worrying, he feels, is the tendency for companies in this space to focus only on one type of specialist dish.
"When you launch a one-menu item business, you have to be aware of cyclical trends," Mr Benn says. "Some items can be streaky, like the lobster roll, or follow seasonal patterns."
For now, it doesn't look like the appetite for cheese is waning. Britons eat around 27 grams of cheese per person per day, and other European countries often consume twice that amount. Americans are big fans too.
For this reason, Mr Pollak believes businesses like the Great American Grilled Cheese Kitchen will keep growing. He points to the success of sandwich chains such as Tom + Chee and the Melt Shop which now span the US.
"I strongly believe that a grilled cheese concept could be as big as a Chipotle [which has more than 2,000 branches globally]," he says.
"The grilled cheese sandwich has withstood the test of time, and grilled cheese concepts that have launched over the past 5-10 years are living proof of the concept's longevity."